West Midlands speedway: Final heat defeat upsets Heathens
Last updated on .From the section Speedway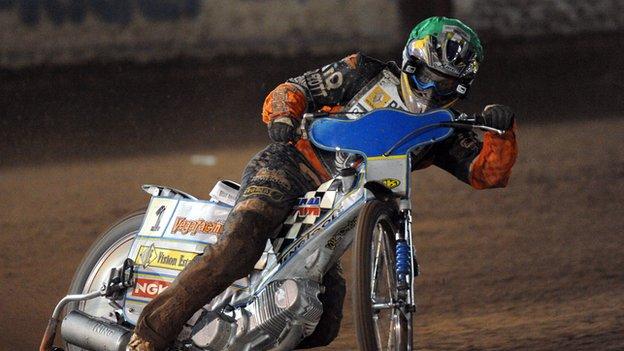 Dudley are to file a complaint following Wednesday's controversial last-heat National League Grand Final defeat by Mildenhall at King's Lynn.
After taking a 14-point first-leg lead to Norfolk, Dudley lost 54-39 on the night to go down 91-90 on aggregate.
It all hinged on the loss of Heathens skipper Adam Roynon, who broke both his leg and shoulder in a final-heat crash.
Heathens co-owner Gary Patchett accused Fen Tigers co-promoter Chris Louis of entering the officials box.
Referee Dave Robinson reportedly studied replays of the collision between Roynon and Mildenhall's Stefan Nielsen as they came out of the fourth bend at the end of the first lap, before excluding the former's replacement for the re-staging of the final heat.
And Patchett accused Louis of persuading the referee to change his mind - a decision that they claim cost them the league title.
"The referee changed his decision and excluded our skipper Adam Roynon after earlier telling the Mildenhall manager he thought it was Stefan Nielsen's fault," said Patchett.
"Quite how the referee and Chris Louis can justify themselves I don't know.
"You've got a referee being coerced into changing his mind by a staging promoter in the race which decides the league title.
"Chris Louis entered the referee's box, which he is not allowed to do."
As for Roynon, who will also now miss Coventry Bees' forthcoming Knockout Cup final, he is due to undergo surgery.
That caps an injury-scarred end to a rain-ravaged season which also sees Byron Bekker awaiting an appointment for surgery to repair his damaged knee ligaments and Tom Perry nursing a broken scaphoid and thumb.
"In many ways, the injuries sustained by Adam are more gut-wrenching than losing the league by a point," said Dudley chairman Nigel Pearson.
COVENTRY
Coventry Bees meet Poole in the first leg of this year's Knockout Cup final at Brandon on Friday night (20:00 BST).
Having qualified for ther final with last week's two-leg win over Birmingham, the Bees did not find out the identity of their opponents until Poole's win over Peterborough on Thursday evening.
Having led by 12 points going into the second leg, Poole lost 50-43 on the night, but still went through on aggregate.
Poole will be without world champion Chris Holder as they chase a consolation prize following this week's Elite League Grand Final defeat by Swindon.
Bees have Aaron Summers available for both legs, having completed his fixtures with this season, but they are without Adam Roynon.
He would have missed this weekend's first leg due to a commitment for Workington in any event but his season was ended when he suffered a broken leg and shoulder blade in a crash at King's Lynn on Wednesday.
"It's just a shame for Adam," said Bees boss Blayne Scroggins. "I'm gutted for him.
"We deserve to be in the final. We've completed all our legs and we've remained unbeaten against extremely tough opponents.
"I'm proud of the boys for getting this far. Now we've got to go for it and try to land some silverware for 2012."
STOKE
Stoke Potters finish the season on Sunday when they complete their home fixtures against the Isle of Wight in the National Trophy (15:00 BST).
The Potters, without a win in their last three meetings, have drafted in Dudley's Ashley Morris to replace Ashley Birks, who is riding for Scunthorpe in the Premier League title play-off.
Stoke also welcome back Lee Geary after missing last weekend's defeat against Mildenhall.