Poole Pirates beat Coventry to win Knockout Cup Trophy
Last updated on .From the section Speedway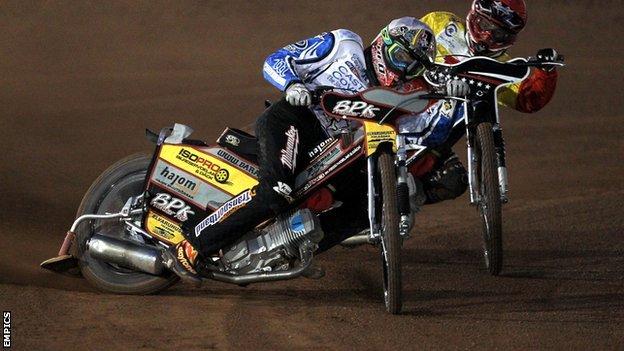 Poole Pirates ended the 2012 season with victory over Coventry at Wimborne Road to claim the Elite Knockout Cup trophy for the third successive season.
The win made up for last week's loss to Swindon in the Elite League final.
Protecting a 14-point advantage, the Pirates never looked in danger of losing their grip on the trophy with points flowing from all outlets.
In the end they sealed victory with a 24-point margin after defeating Coventry 50-40 on the night.
"Winning this - the second major trophy on offer - was a great achievement particularly under such difficult circumstances with injuries and enforced changes," admitted Pirates team manager Neil Middleditch.
"Although it doesn't make up for the disappointment of last week when we lost the league title, given what we had thrown at us as far as luck was concerned we are not complaining.
"I am very proud of the team. The lads have all done brilliantly well in the past week to overcome Peterborough and now Coventry so let's enjoy the moment.
"We started the season with silverware winning the Elite Shield and we've ended it with the Elite Knockout Cup in another unforgettable season of speedway at the club."
Coventry rider Scott Nicholls admitted his side gave themselves too much to do after the first leg.
"I had some good races, the track conditions were a little bit tricky as it's that time of year - the end results weren't always the ones I wanted but I gave it my all," said Nicholls.
"Sadly we lost but we put up a bit of a fight and it was a better performance than Friday which was a disaster for one reason or another.
"Everyone put the effort in and it was good to see Szczepaniak have a fantastic night. I think he's getting settled in, getting used to the tracks and his win in Heat 15 was a great way to round off his year."
ELITE LEAGUE KO CUP FINAL SECOND LEG
POOLE 50: Krzysztof Kasprzak 14, Niels-Kristian Iversen 13+1, Rory Schlein 10, Kyle Howarth 7+1, Morten Risager 4+2, Ludvig Lindgren 2+1, Piotr Pawlicki R/R.
COVENTRY 40: Michal Szczepaniak 13, Scott Nicholls 11, Chris Harris 6, Edward Kennett 5+1, Aaron Summers 2+2, Kenni Larsen 2, Brendan Johnson 1.
Poole win 102-78 on aggregate