Rory Schlein leaves Belle Vue Aces after one season
Last updated on .From the section Speedway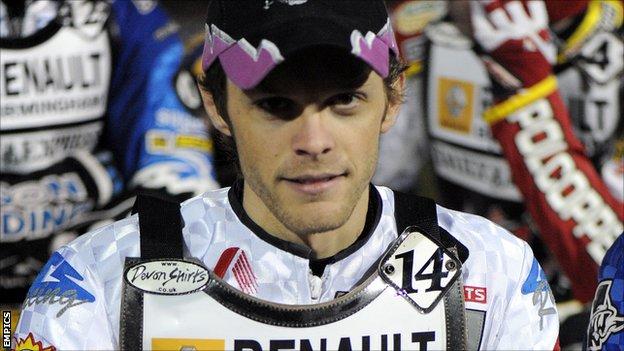 Australian rider Rory Schlein will not be returning to Belle Vue next season.
Schlein joined the Aces as skipper at the start of the year, but they finished bottom of the Elite League table after winning just five of their 26 meetings.
In a statement on his official website, Schlein said: "I feel it is right to clear up many rumours regarding my future as a Belle Vue rider.
"Unfortunately I will not be returning to the Aces for the 2013 season."
He continued: "I would like to assure people I am not running away because things have got tough, but simply because I haven't received the necessary assurances that changes would be happening to ensure the club would move on from the failures of last season.
"Fingers crossed that making my availability known now will ensure I find another team place in the Elite League in time for next season."
Commenting on Schlein's departure, managing director David Gordon said: "Rory's decisions are for him to make.
"Sometimes in life things don't work out as planned, but now we must draw a line under the disappointing events of the 2012 season, focus on the future and move on.
"We look forward to putting together a team for 2013 that will do much better than this year."