Poole Pirates star Chris Holder to sign for 2013 season
Last updated on .From the section Speedway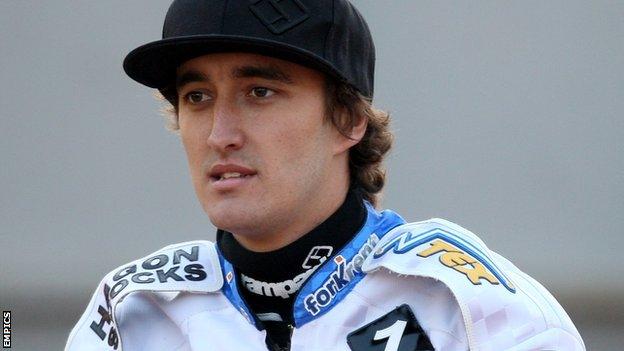 World speedway champion Chris Holder says he expects to sign a deal with Poole Pirates for the 2013 season.
And Holder, who met with Pirates promoter Matt Ford on Tuesday, says he cannot see himself riding elsewhere.
"I am just looking forward to sealing the deal with Matt and getting ready for next season," Holder told BBC Radio Solent.
Holder has now returned to Australia where he will continue recovering from the accident which happened during last month's Elite League Knockout cup semi-final against Peterborough that ended his season early.
Ford had always been confident of keeping hold of his star rider, telling BBC Radio Solent last month: "It isn't always necessarily down to the terms, it's about being happy.
"Chris knows that perhaps he could go and earn an extra £10,000 or £15,000 elsewhere but that's not necessarily his goal.
"He wants to be happy and ride for a club that pays him every week and on time."
And Holder echoed Ford's comments: "There is no reason for me to move really.
"I'm quite happy here and I'm not one to bounce around from club to club.
"Hopefully it all goes sweet and you should know in the next few days what is going to happen."
Meanwhile Poole have signed former world Under-21 champion Robert Miskowiak - eight years after an initial attempt to gain his signature.
The Pirates moved for Miskowiak in 2004 but he elected to join Ipswich, where he has spent the majority of his Elite League career. He now moves to Poole on a 5.81 average after a short-term stint with Wolverhampton in 2012.
Poole promoter Matt Ford told their website: "This is a key capture for us. Robert has always shown a liking for the Wimborne Road track and to have him on board was pivotal in our plans.
"Poole has a wonderful reputation with Polish riders and I am confident Robert will add his name to the illustrious list. This past season we were served brilliantly by Adrian Medzienski and then Krzysztof Kasprzak."