Birmingham Brummies switch race nights to Wednesdays
Last updated on .From the section Speedway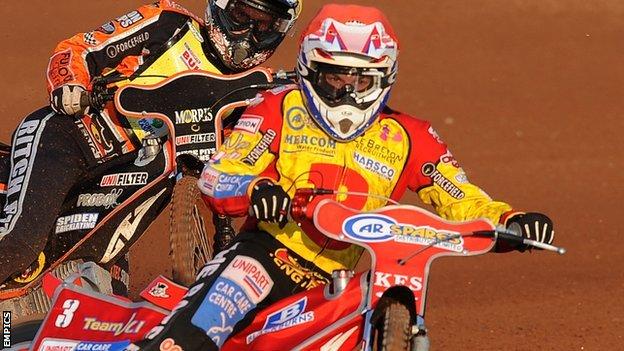 Birmingham Brummies have announced that they have switched their race nights to Wednesday next season.
After consulting fans, the club's officials decided to make the change from their current Thursday nights.
The move may also mean that Ben Barker could stay with the Brummies after he agreed to ride for Ipswich next year, who also race on Thursdays.
Under speedway's current 'doubling up' rules, Barker could still ride for the Brummies in the Elite League in 2013.
Brummies joint-owner Alan Phillips said: "I am very conscious of the need to take into account the views of supporters and there is no doubt that a switch back to Wednesday evenings is more popular and the majority choice.
"Accordingly, I have decided to change back to our previous Wednesday evening arrangement.
"I'm also conscious that there is less likelihood of Wednesdays clashing with any Premier League meetings so the decision was fairly easy."