West Midlands speedway: Wolves offer permanent deal to Wells
Last updated on .From the section Speedway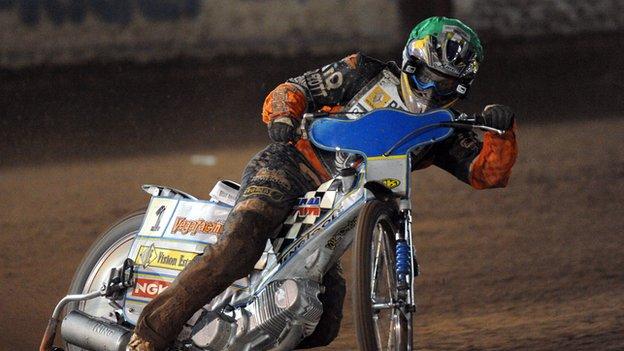 Wolves are hoping to sign Coventry rider Ricky Wells on a permanent deal.
New Zealand-born Californian Wells, 21, who first joined Coventry in 2009, has spent the last two seasons with Wolves after riding for Stoke in 2010.
But Wolves owner Chris Van Straaten has now had permission to negotiate with his Coventry counterpart Mick Horton.
"We will open talks with Ricky this week. He had a fine season with us and is very keen to come back to Wolverhampton," said Van Straaten.
"We will see how those talks go and the possibility of purchasing his contract may come into play, but it's too soon to talk like that."
DUDLEY HEATHENS
Dudley Heathens insist that the decision to remain at National League level for 2013 has been made to protect the club's long-term interests in such "very difficult economic times".
Despite weeks of discussions, no application was submitted by the former Cradley Heath club, who now race at Wolves' home, Monmore Green.
"The decision was made in the best interests of the club," said chairman Nigel Pearson, who has been at the helm since the former Cradley outfit reformed in November 2009,
"We consulted other promoters, looked at the costs involved in running at the higher level and took on board the views of our wonderful fans.
"The ultimate aim has always been to find a piece of land to take the Heathens into their own home. But we didn't want to jeopardise that in what are very difficult economic times.
"We have finally got positive feedback from Dudley Council and are hopeful we can make significant progress over the next few months."
While the bulk of this summer's side set to leave, Dudley have already made 15-year-old Max Clegg their first signing for the 2013 National League challenge.
Clegg, who turns 16 in April, made an impressive start to his competitive career this year, averaging 4.54 for Scunthorpe, having finished runner-up in the 2011 British Youth Championship as a 14-year-old.
"Max had some excellent meetings for Scunthorpe and learnt his trade on their small training track so we fully expect him to settle in quickly at Monmore Green," said Pearson.
"He's got a very tidy style and claimed some notable scalps in his debut season at the age of 15.
"He gives us a very solid start to our team building which will result in a new-look side for the 2013 season.
"It's going to be tough, but the boys who did us proud in 2012 now have to be broken up."
STOKE
Stoke Potters heat leader Ben Reade is keen to return to Loomer Road next season in the wake of a stunning campaign, in which he improved his average by nearly five points and represented the club in the National League Riders Championship, Pairs and Fours finals.
"I'd love to be back at Stoke again next season," said Reade.
"It's really now down to the Stoke promotion to give me a call and I'm sure we can negotiate a deal.
"I'm determined to continue my improvement and become a bigger and better rider next year and push my way to the very top. This has been my best season by far and I've really enjoyed my racing this year at Stoke."
Reade admits that advice from the late Great Britain international Lee Richardson, who died in a crash in Poland in May, helped play a part in his rapid rise up the National League rankings in 2012.
"My sponsor Thames Valley Roofing hired out the Scunthorpe and King's Lynn tracks for us to get some laps in," said Reade. "And Lee was absolutely fantastic.
"I never thought that any top world-class rider would want to help a bottom-end National League rider like myself out, but Lee wanted to help me and taught me a lot of things on and off the track.
"It was a great privilege and an honour to have Lee help me over the winter, and it has improved me so much as a rider."