Speedway 'shelves' Elite League Knockout Cup
Last updated on .From the section Speedway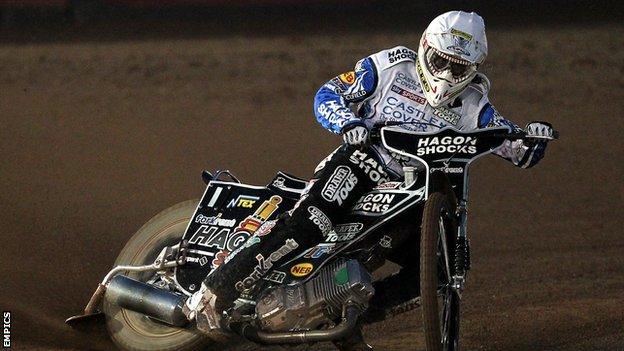 Speedway's governing body has opted to "shelve" the Elite League Knockout Cup for the 2013 season.
The British Speedway Association has announced the move after this year's competition suffered through rain delays and a lack of riders for rescheduled fixtures.
The cup has been competed every year since its introduction in 1997.
BSPA chairman Alex Harkess said: "With increasing overseas rider commitments, re-staging opportunities were few."
He added: "And with some clubs unable to participate the Elite League members chose to rest this competition for the time being."
Poole Pirates won their third successive title by
A the BSPA's annual general meeting it was also confirmed that the Elite League will be competed by the same 10 teams,
The Premier League will also retain the same line-up and both competitions will operate a 42.50 points limit for team-building.
The creation of the International Speedway League Bureau was also confirmed, an organisation designed to improve the use of international riders from leagues in Denmark, Sweden, Poland, Czech Republic, Germany and Great Britain.