West Midlands speedway: Skipper Scott Nicholls stays with Coventry
Last updated on .From the section Speedway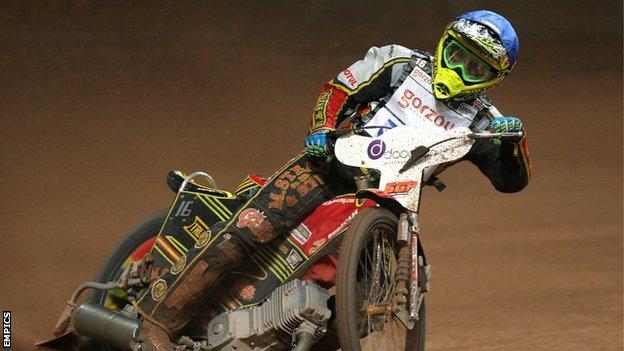 Coventry captain Scott Nicholls has agreed terms to remain with the Bees next season.
The seven-time British champion enjoyed a consistent campaign in 2012, despite being hampered by a mid-season lay-off with a broken collarbone.
"I'm absolutely delighted to have Scott back with us," said Coventry promoter Mick Horton.
"He's the best captain in the Elite League and it's good to have him in that position."
Nicholls is one of four confirmed Bees starters in 2013, along with Aaron Summers, Adam Roynon and Michal Szczepaniak.
Coventry will also be competing in the National League next year and have made their first two signings for racing in the third tier.
Promising teenager Oliver Greenwood has been signed from Scunthorpe, along with former Bees mascot Richard Franklin.
Franklin, 20, who has been racing at National League level since the age of 15 and spent two seasons at Dudley, joins his home-town club.
Co-boss Blayne Scroggins said: "Richard was keen to come to Coventry being a local lad, and we're really pleased to sign him.
"With Oliver Greenwood already signed up as well it's a good start to our planning."
BIRMINGHAM
Birmingham Brummies skipper Danny King has signed up for a third successive season at Perry Barr.
"I'm very pleased to be a Birmingham rider once again in 2013," said King. "It's a very well-run club with professional management and I am looking forward to another shot at the play-offs."
Brummies co-promoter Graham Drury says King, who signed as a full asset from Ipswich in mid-season, added: "Danny is a reliable rider who very rarely let's you down.
"He's popular with his team-mates and popular with the fans so it was the logical thing to do to bring him back for a third season."
WOLVES
Wolves star Freddie Lindgren has been awarded a testimonial to mark his forthcoming 10th season at Monmore.
The 'Fast Freddie Challenge' will starts the new season on Sunday, 10 March (17:00 GMT).
"We're working on the line-up," said Lindgren. "I'm hoping to be able to make some announcements in the not too distant future.
"I'm very pleased with the timing of the meeting. We just need the weather to behave."
DUDLEY HEATHENS
Dudley Heathens will be led by Ashley Morris in 2013, having taken the decision to release captain Tom Perry.
"We feel that to include both Ash and Tom would leave us just too top-heavy," said chairman Nigel Pearson.
"Tom is simply paying the price for having too high an average, based entirely on his success in 2012.
"That's quite clearly unfair - but speedway has always been a numbers game, and he's a victim of the system.
"We'll do everything we can to get him fixed up with another National League club, and also hopefully in the Premier League too. We have absolutely no intention of selling him.
"Ashley will be our number one and captain and we're sure he'll do a fine job for us."
The Heathens have also signed Mildenhall captain Lewis Blackbird, who will double up with Leicester in the Premier League,
"We were amazed to discover that Lewis was available," said Pearson. "In fact it was Lewis himself who got in touch to say how much he would like to ride for Dudley."
Meanwhile, the Heathens have retained the services of Dan Greenwood, the former British Under-15 champion.
Greenwood, 19, joins 15-year-old Max Clegg and new skipper Morris as confirmed starters in the revamped Heathens side, but Darryl Ritchings will not be returning.
Clegg, who turns 16 in April, made an impressive start to his competitive career this year, averaging 4.54 for Scunthorpe after finishing runner-up in the 2011 British Youth Championship as a 14-year-old.
STOKE
Stoke Potters heat leader Ben Reade is keen to return to Loomer Road next year in the wake of a stunning season, in which he improved his average by nearly five points and represented the club in the National League Riders Championship.
"I'd love to be back at Stoke again next season," said Reade. "It's really now down to them to give me a call and I'm sure we can negotiate a deal."
Reade also paid tribute to Great Britain international Lee Richardson, who died in a crash in Poland in May, for playing a part in his rapid rise up the National League rankings in 2012.
"My sponsor hired out the Scunthorpe and King's Lynn tracks for us to get some laps in and Lee was absolutely fantastic," he said.
"I never thought that any top world-class rider would want to help a bottom-end National League rider like myself out, but Lee wanted to help me and taught me a lot of things on and off the track."
Meanwhile, Stoke have loaned former skipper Tony Atkin to Buxton for the 2013 season.