West Midlands speedway: Bees lose Kennett to Swindon
Last updated on .From the section Speedway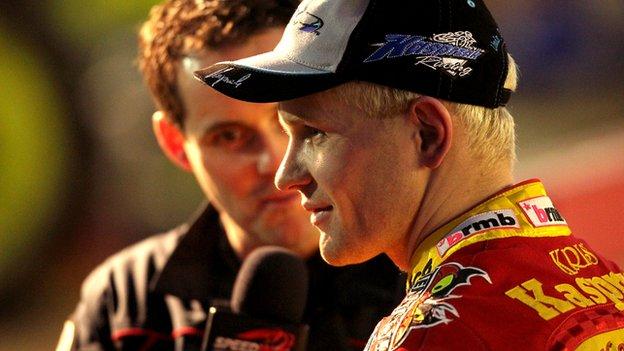 Coventry have lost Great Britain international Eddie Kennett to Elite League champions Swindon.
But the Bees have responded to the exit of Chris Harris by bringing Krzysztof Kasprzak back to Brandon from Poole.
The former Birmingham man, who helped the Bees win the title in 2011, had been left out of the Pirates' plans after the Dorset side retained Aussie GP duo Chris Holder and Darcy Ward.
"It was a special moment to win the title with Coventry," he said.
"Now I'm back it would be nice to win it again. I like the Coventry track and I am very pleased to be back riding there."
Three-times British champion Chris Harris joined the Brummies as their new number one last week, as replacement for the departed Bjarne Pedersen.
Pedersen has moved back to his former club Eastbourne, for whom he rode in 2011, after a troubled campaign with the Brummies.
"This year was one of my worst seasons ever," he said, "I just want to get back to my best. There were five other clubs calling me but it was quite an easy decision."
Coventry captain Scott Nicholls has agreed terms to remain with the Bees next season, one of four confirmed Bees starters in 2013, along with Aaron Summers, Adam Roynon and Michal Szczepaniak.
Coventry have made another signing for 2013 by agreeing a fee with the Isle of Wight for Brendan Johnson, the former British Under-18 champion.
Johnson, 20, becomes the fourth confirmed starter for Coventry's National League side as the Bees enter speedway's third tier for the first time.
His recruitment follows the signings of James Sarjeant from Sheffield, Oliver Greenwood from Scunthorpe and former Bees mascot Richard Franklin from Dudley,
WOLVERHAMPTON
Wolves hope to finalise a new deal with their Australian-bred British Grand Prix star Tai Woffinden within the next week.
Wolves boss Chris Van Straaten said: "We are talking via email and text message right now because of the time zone. I'd like to think we will have everything finalised in the near future, hopefully the next few days."
Wolves have told Swedish youngster Pontus Aspgren that he is free to talk to other clubs - although he remains part of the club's long-term plans.
But they have confirmed that Jacob Thorssell will be part of Wolves' starting line-up alongside fellow Swede Freddie Lindgren next year.
World number two Nicki Pedersen will make a rare UK appearance back at Monmore for Freddie Lindgren's testimonial on 10 March (17:00 GMT).
He will be joined in the line-up for the 'Fast Freddie Challenge' by King's Lynn's Niels-Kristian Iversen and former Coventry man Andreas Jonsson.
Pedersen, who spent two seasons in Wolves colours. will be returning to the track where he made his Elite League debut in 1999.
The latest name to be added to the line-up is new Birmingham signing Chris Harris.
DUDLEY HEATHENS
Dudley Heathens have beaten off several rival clubs to sign double British Under-16 Champion Nathan Greaves for the 2013 season.
A year after winning the 250cc British title at the age of 13, Greaves, who will be 15 in February, retained his title last year, as well as claiming the 500cc crown.
The Heathens, who will be led next season by Ashley Morris, have also signed Mildenhall captain Lewis Blackbird, who will double up with Leicester in the Premier League, And they have retained the services of Dan Greenwood, the former British Under-15 champion.
Greenwood, 19, joins 15-year-old Max Clegg and new skipper Morris as confirmed starters in the revamped Heathens side, but Darryl Ritchings will not be returning.
STOKE
Stoke Potters have made two more signings ahead of the 2013 National League season - Kyle Hughes and Luke Priest.
Hughes has previously won the league title with Oxford and has also won the KO Cup with Plymouth and won the National Trophy on three occasions with Mildenhall.
Priest returns to the club after two years with Buxton, having previously won silverware at Loomer Road.
The Potters now have three places to fill in next season's squad, having signed up Ben Reade for a third successive season at Loomer Road.
Confirmation of Reade's decision to stay comes on top of Stoke making their first signing for 2013 by bringing back Lee Smart on loan from Birmingham.