Ben Barker: Birmingham Brummies have real potential
Last updated on .From the section Speedway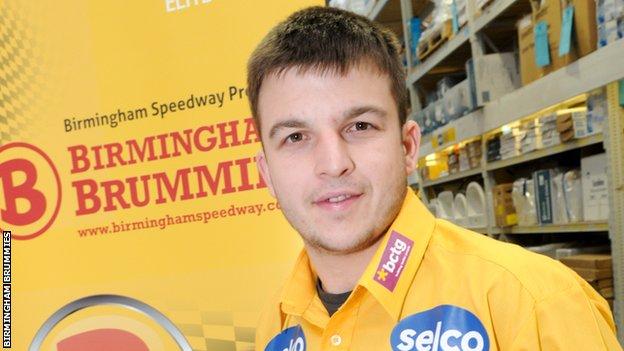 Ben Barker believes that Birmingham Brummies have the potential to become a major force in Speedway.
Brummies finished third in the Elite League last year, and Barker says that the club's geography is a real asset to enable growth.
"Birmingham's one of the biggest cities in England, and from the big cities we are the best club," he told BBC WM.
"All we need is more fans to get behind us and you'll see Birmingham grow bigger and stronger."
He added: "It's a fantastic sport, but it doesn't get the crowds we wish for."
Barker completed a full transfer to Brummies during the winter after two seasons on loan from the Coventry Bees.
Next season he will be 'doubling up' and riding for both Birmingham and the Ipswich Witches, after the Brummies switched their race nights to Wednesdays.
And after last season's success, where Birmingham finished only behind Swindon and Poole, Barker has paid tribute to the work of team bosses Phil Morris and Graham Drury.
"The two teams that were top were superb, like Man City and Man United," he continued.
"We were happy to come third, but it's a shame we couldn't push them harder in the play-offs.
"We've obviously made some team changes and bringing Phil Morris in was a fantastic move. He's a really great guy and a diamond of a team manager to work for.
"If you are struggling he knows how to get behind you. It's the same as Graham, because they are ex-riders. They don't let you get your confidence down for too long."