Tomas Topinka: King's Lynn legend hangs up helmet
Last updated on .From the section Speedway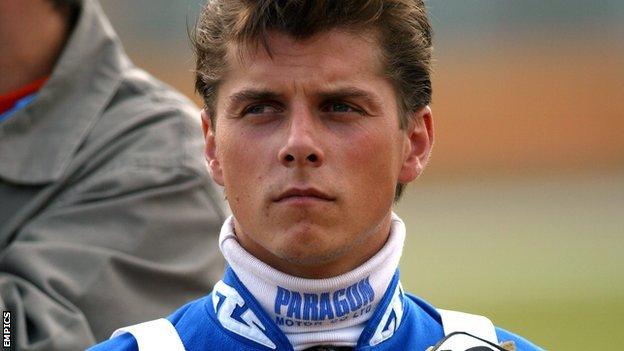 King's Lynn Stars legend Tomas Topinka will bring his 20-year association with the Norfolk club to an end on Friday.
The 38-year-old Czech is appearing in a farewell meeting to mark his retirement from British racing.
He has scored more than 6,000 points in 578 appearances for the Stars across 15 campaigns since 1993.
"It's been a pleasure to be at King's Lynn. I hope they will find somebody to replace me who can come ride the next 15 years," he told BBC Radio Norfolk.
"It's a bit strange. I don't really know how I thought I would finish racing. I think it's better to do it this way rather than finish with broken legs. I hope it's the right decision."
Topinka has not raced competitively for the past 18 months since injuring his shoulder, but will return to the track at the Norfolk Arena to lead an all-star team, including three-times world champion Nicki Pedersen, against the 2013 King's Lynn line-up.
He helped the Stars to the Premier League treble in 2006 and 2009, but has suffered numerous injuries during his career.
"There's been a few broken bones. When I joined (the club) in 1993, I broke my collar bone twice in one month, but little injuries like that are nothing," he said.
"You don't think about the injuries. If you do get injured, it's part of the job."