Speedway: Play-off minimum target for Ipswich Witches
Last updated on .From the section Speedway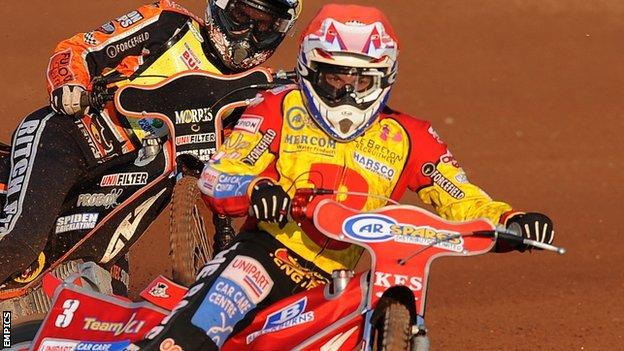 The Premier League play-offs are the minimum ambition for Ipswich Witches, according to manager Pete Simmons.
The Witches start the season with a League Cup meeting at home to Rye House on Friday - weather permitting.
Simmons told BBC Radio Suffolk: "It was good to reach two cup finals last season, but we just missed out on the top six and the play-offs.
"But we have a team capable of upping their averages and I'm sure we're going to have a successful season."
Ipswich have brought in Ben Barker from Birmingham Brummies to ride at number one, and Simmons believes the consistently high-scoring England international - who will continue to ride for the Brummies in the Elite League - will improve the Witches away record in particular.
"There are some tidy-looking teams out there, some look a little bit top-heavy, the likes of Newcastle, Somerset and Workington will always be a danger on their own tracks, but with Ben's experience and leadership at number one we're hoping to put in some really decent away performances," he said.
Local boy Leigh Lanham will captain the Witches, riding at number five, with Finn Jari Makinen at two, Rohan Tungate at three and Dane Morten Risager at four. Teenagers Adam Ellis and Cameron Heeps fill the reserve positions.
Director of speedway Chris Louis said the club had adopted a different approach to compiling the squad this season.
"We've gone down the strength in depth route," he said. "Ben is a points scorer, that's what he does and I'm sure will continue to do. I'm looking forward to seeing him race with the Witch on - he'll serve up a lot of entertainment, and will take a bit of pressure off Leigh, who was not happy riding at one."
Barker said he was excited at the prospect of the season starting.
"Ipswich Witches has always been a professionally run club and I didn't think twice about taking the opportunity to sign when came up during the winter," he said.
"The pressure is on me to score highly, but I'm brought in to do that job and that's what I'm going to try and do. Combining riding in the Premier League and Elite league can be difficult at times - this week I have four meetings in three days - but I'll be giving it everything. I really want to help bring some silverware to the club."