Plymouth Devils: Lee Trigger wants gating improvement
Last updated on .From the section Speedway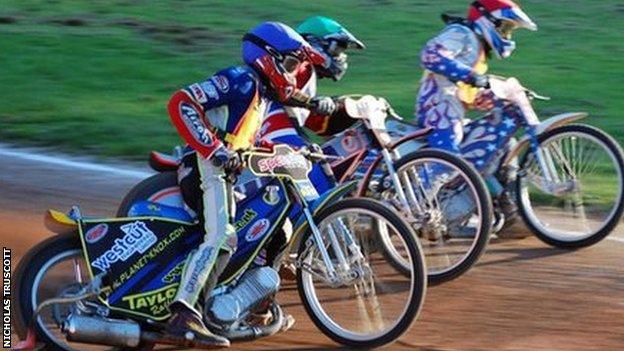 Plymouth Devils team manager Lee Trigger wants his riders to improve their gating ahead of a crunch weekend of League Cup fixtures.
Devils host Ipswich Witches on Friday before travelling to Rye House the following evening.
"I was disappointed with last week's defeat as we looked stronger on paper," Trigger told BBC South West Sport.
"We didn't produce on the track and we will need to sharpen up our gating and do the job."
He continued: "The track wasn't great last week and we've had a chat about that so hopefully it will be better suited to us in the future.
"But the riders are all professionals and should deal with it."
Plymouth slipped to a 52-40 defeat in their opening League Cup fixture against Rye House last week and Trigger is looking for a response.
"It was a big wake up call after our win against Somerset in a challenge the week before, we were on a bit of a high," he added.
"It's early days but we need three points against Ipswich and at least an away bonus point from Rye House if we're to have a chance of progressing.
"Last week's result was poor but it was bad for the supporters too as the racing wasn't great and as well as looking at good results we want to produce good entertainment."