Plymouth Devils suffer Knockout Cup exit against Newcastle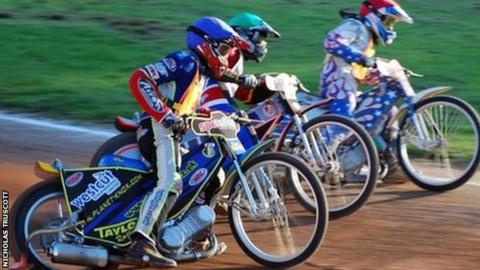 Plymouth Devils are out of the Premier League Knockout Cup after an 88.5-73.5 aggregate defeat against Newcastle.
Ty Proctor (14) returned his highest score since signing for the Devils but Newcastle ran out 46-44 winners in the first leg at the St Boniface Arena.
In the return leg despite Mark Lemon (10.5) and Proctor (9) scoring well, Plymouth were unable to overturn the deficit and went down 42.5-29.5.
The Devils have won just one of their six competitive fixtures this season.
In a match that neither side led by more than four-points the first leg proved a tight affair.
Ten of the 15 races were tied 3-3 but the Devils were unfortunate not to get a last-grasp draw as captain Cory Gathercole fell in the final race of the night when in a scoring position.
That allowed Stuart Robson and Christian Henry to secure a drawn heat, as they filled the minor places behind Ty Proctor, to give the Diamonds a four-point lead to take into the second leg.
The return fixture on Tyneside was cut short due to rain after 12 heats, at which point Newcastle were already out of sight.
That was despite Proctor going unbeaten from three rides and Lemon dropping a solitary point from his four.
The Diamonds crucially recorded 5-1 heat maximums in races six, eight and nine ending any realistic chance of Plymouth getting a result.