Plymouth Devils suffer back-to-back Edinburgh defeats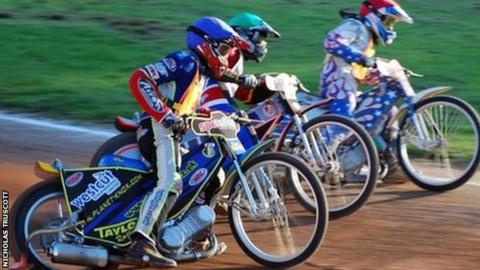 Plymouth Devils suffered two defeats in as many days against the high-flying Edinburgh Monarchs in Speedway's Premier League.
The Devils went down 51-42 at the St Boniface Arena just 24 hours after a crushing 56-36 defeat in Scotland.
Reserve Todd Kurtz top scored for Plymouth over the two meetings, amassing an impressive paid 23 points.
The defeats leave the Devils pointless after three league matches and bottom of the Premier League table.
Friday night's meeting in the Scottish capital started evenly, with the Devils edging things 16-14 after five races.
The Monarchs then went on a staggering run, producing nine of the remaining 10 race winners to ease to victory.
The return fixture started how the previous night's match finished, with Edinburgh dominating the early exchanges.
Consecutive heat wins from Theo Pijper and Claus Vissing in races three and four opened up a six-point lead for the Monarchs, a lead they never lost.
Mark Lemon stemmed the tide in heat nine with a tactical win to bring the deficit down to three points, but Edinburgh number one Craig Cook won three of the last five races to secure the points.