Speedway: Swindon Robins welcome Nick Morris return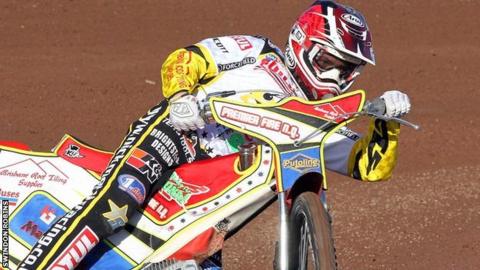 Swindon Robins team manager Alun Rossiter says the return of Nick Morris will give the side a much needed boost.
The 19-year-old has missed the last two meetings through injury but has declared himself fit for Thursday's clash with Poole Pirates.
Morris's absence coincided with back-to-back defeats for Swindon against Birmingham and Eastbourne.
"I think we missed Nick a little bit more than we anticipated," boss Rossiter told BBC Wiltshire.
"He just goes about his business at the hard number two and gets five or sixes, which are very important.
"We need to make sure Nick comes back and is firing well."
Swindon also have new father Hans Andersen available for the visit of Poole, who they beat in last season's play-off final to claim the Elite League title.
The Robins were unbeaten throughout April but have since lost three of their last four meetings.
"We don't want to let all the good work we've done fall away so three points are very important," added Rossiter.
"I'm not making excuses but we've not had the run recently and everything has gone against us. Hopefully our luck will change."