Plymouth Devils lose Ty Proctor for the rest of the season
Last updated on .From the section Speedway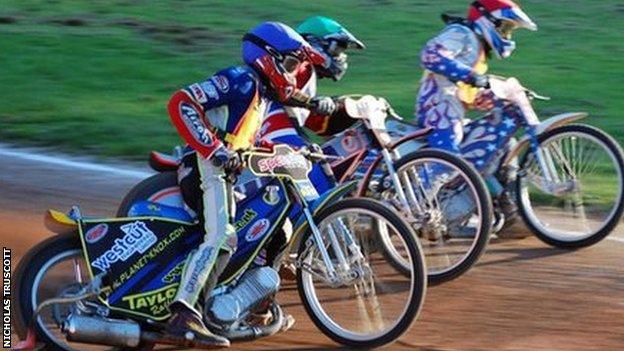 Plymouth Devils number one Ty Proctor will miss the remainder of the season because of an ongoing neck injury.
The 26-year-old Australian has not ridden since suffering the injury at the meet in Edinburgh in May.
Plymouth team manager Lee Trigger said: "The news from his specialist is that he's going to be sidelined for the rest of the season.
"He's booked in for an operation at the end of this month to remove the disc in his neck and fuse the bones together."
Trigger added: "This is very sad news for Ty and Plymouth alike as he had settled in very nicely as our number one.
"He stepped into very big boots left behind from the previous season and he grew into a very commanding number for the Devils both at home and away."
Proctor made nine appearances for Plymouth in official fixtures, scoring 79 (paid 81) points from 40 rides for a match average of 8.10.
Plymouth have already taken steps to cover Proctor's absence by signing former Berwick rider Seb Alden.
The 28-year-old Swede will make his debut on 19 July in the home match against league leaders Workington.