Speedway: Seb Alden quits Plymouth Devils on day of planned debut
Last updated on .From the section Speedway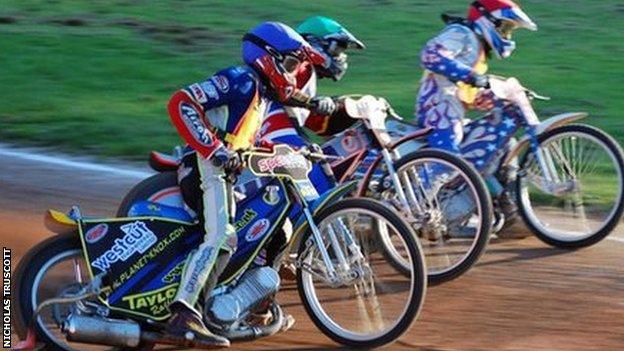 Plymouth's new signing Seb Alden has decided to leave the club for personal reasons on the day he was meant to be making his debut for the Devils.
Alden, signed as a replacement for the injured number one Ty Proctor, was expected to ride in the Premier League match at home to Workington on 19 July.
But he contacted Devils manager Lee Trigger on Thursday to say he would not be available.
The Devils have signed Ipswich rider Leigh Lanham as a guest replacement.
"I am disappointed to announce that Seb Alden informed me yesterday that he had decided to quit British speedway with immediate effect due to personal reasons," said Trigger.
"He was very apologetic but feels he cannot carry on in the UK any longer.
"This leaves Plymouth back to where we started with Ty Proctor listed as number one. I will continue to search for suitable riders to strengthen our team as I always have done but, as you might imagine, it is not the easiest of tasks.
"I have had very little time to sort out a full team this week and I have been heavily hampered also with very limited riders available to guest."
Proctor has been ruled out for the rest of the season with a neck injury.