Speedway: Swindon Robins riders 'protest' over wage delay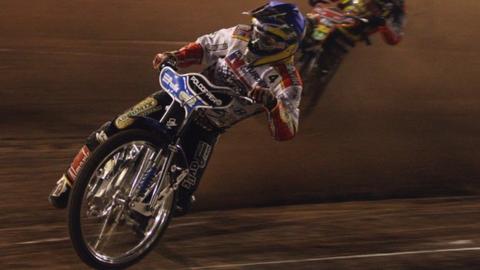 Swindon Robins riders have 'protested' over unpaid wages.
Captain Hans Andersen, Troy Batchelor, Peter Kildemand and Edward Kennett each only had one bike in the pits, as opposed to the regular two, for the 48-42 defeat by Belle Vue on Thursday.
It is not known how long the riders have gone without pay, but it is thought the team are owed a combined figure of between £40,000-£50,000.
And owner Gary Patchett confirmed the club were having cash-flow problems.
"We had a meeting with the riders earlier about the money that is outstanding," he said. "I took them through where we saw ourselves and gave them the reasons of how we've got into this situation.
"We're running an expensive sport here and the more successful you are, the more expensive it is to run. It's been difficult to balance the books."
Swindon are the reigning Elite League champions and are currently second in the standings. A win over Belle Vue would have seen them move above leaders Birmingham.
"Only the rider will be able to tell you whether he gave it 100% tonight [Thursday]," added Patchett.
"If a rider deliberately rides lower than their potential in some perverse way of making a protest, that would call into question their professional pride."
Speaking to the Swindon Advertiser, Swindon captain Hans Andersen said: "The riders only had one bike in the pits, not as a protest but to show the situation we are in.
"Sometimes we get criticised for having a bad meeting, but sometimes it's due to some of us not being paid. Some of the riders can't afford new clutch plates because they're skint, and can't service engines when they want to because they are not being paid.
"We hope things will be a lot better by next week as we have been promised, and we will all carry on putting in our best for Swindon."