Tai Woffinden: World speedway champion praises parents' sacrifice
Last updated on .From the section Speedway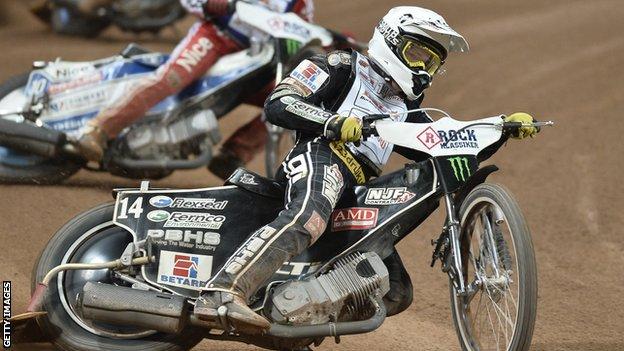 New hopes his success has vindicated his parents's sacrifices.
The 23-year-old Wolverhampton Wolves rider grew up in Australia but returned to England, where he was born, in 2006.
The move allowed Woffinden to pursue a career in speedway like his father Rob, who died from cancer three years ago.
"My parents moved us back to the UK to give me a chance to make it," he said. "It meant living in a caravan for three years which was really tough for them."
He added: "I'm sure my dad was looking down on me [when Woffinden won the world title], I just wish he could have been there. It was such a tough year for me and mum in 2010 so it's great that I can give her something back."
Raised in Western Australia, Woffinden was crowned the region's under-16 champion in 2006, an achievement that prompted the family's decision to move to Europe, where speedway is a much more popular sport.
"My parents gave up so much," he said. "They just packed up our life five minutes from the beach in Australia to live on a caravan site in Scunthorpe."
By securing six points in Torun, Poland, earlier this month, Woffinden, who was born in Scunthorpe, became the first British rider to win the world title since Mark Loram in 2000 - and did so despite breaking his collarbone twice this season, most recently in September's Scandinavia Grand Prix.
"When I broke my collarbone in the first heat at the Scandinavian Grand Prix, I was crying in pain before each race.
"But after so much hard work it was one of those moments when I just knew I had to dig in and bear it," he added.
Tai Woffinden was talking to BBC Radio Five Live's Rachel Burden and BBC WM's Pete Morgan.