Speedway clubs face air safety fence cash worry
Last updated on .From the section Speedway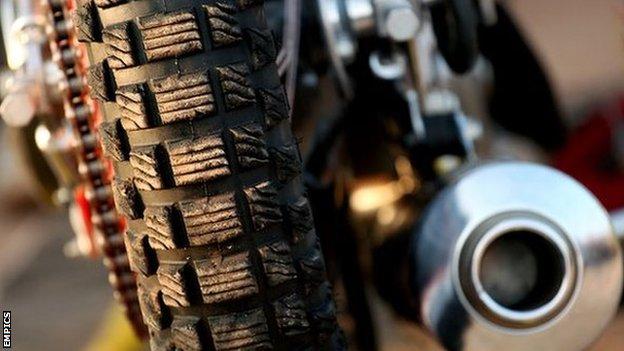 Several speedway clubs could be under threat from new rules which mean tracks must install air safety fencing for the start of next season.
Elite League teams already have the inflatable barriers, and some Premier and National league clubs have also installed them voluntarily.
However, the fences cost up to £30,000 and the promoter of National League Isle of Wight says the cost is a worry.
"In reality it's very serious," Kevin Shepherd told BBC Radio Solent.
Under the new Federation Internationale de l'Automobile regulations, clubs must install the fencing at each bend for the start of next season as speedway looks to prevent future tragedies.
In May 2012, British speedway star Lee Richardson died when he crashed into a wooden fence in Poland.
The Islanders have so far raised just over a quarter of the total needed, but must show by the National League AGM in December, that they can find the remaining sum or risk being thrown out.
"It's a big outlay for clubs, and for us, but we are determined to fight to be at the tapes for the start of next season," said Shepherd.
The Islanders enjoyed a successful 2013 campaign, winning the National Trophy and reaching the National League play-offs and the final of the National League knockout cup.
And Shepherd said he was still hopeful they will be in the league again next season.
"There are companies that let you pay over three years, but we don't want to put the club in debt, we are keen to raise the money up front and put them in place for the new season," he added.
Plymouth Devils have already set the money aside, despite admitting it has been difficult to get the funds together, and the club told BBC Radio Devon there was no question of them not competing next season.
Ipswich and Mildenhall already have air fences and Rye House are installing them this winter.
Somerset Rebels have ordered the fencing after fund-raising over the summer, but told BBC Somerset it had been a massive struggle and they will continue to seek further money to cover the costs over the winter.
The rules do not affect Cradley Heath, as they borrow Wolverhampton Wolves' track at Monmore Green Stadium.