Plymouth Devils sign Kalle Katajisto and Ben Reade
Last updated on .From the section Speedway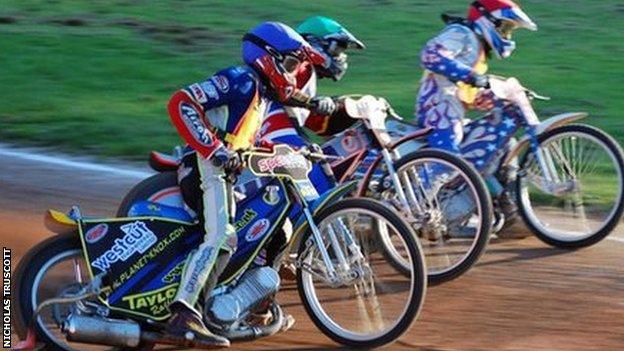 Plymouth Devils have agreed deals with Kalle Katajisto and Ben Reade to complete their line-up for 2014.
Katajisto made only one appearance for the Devils last year after sustaining a serious injury on his debut.
The 22-year-old crashed on the opening lap of his first race at Scunthorpe in August and suffered a broken jaw and severe neck injury.
Ben Barker, Alex Davies, Rasmus Jensen, Kyle Newman and Roland Benko make up the rest of the Devils squad.
Katajisto's injury came as a result of an accidental collision with team-mate Hynek Stichauer, and the Czech Republic rider subsequently walked away from the sport after suffering a crisis of confidence.
"Kalle's helmet split and cut into his neck, narrowly missing a major artery," said Plymouth co-promoter Ashley Taylor.
"It was a nasty injury that could have been much more serious.
"We are delighted that he has made a successful recovery and look forward to including him in our team for the new season."
The total of the team's averages works out at 42.07, which comes in with nearly half a point to spare on the Premier League's limit of 42.50.