Ipswich Witches: Team boss Pete Simmons steps down
Last updated on .From the section Speedway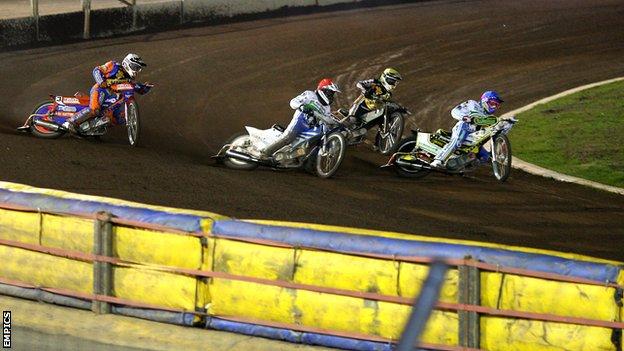 Ipswich Witches team manager Pete Simmons has quit the club after six years in the role.
The 46-year-old said work commitments with his own company and the club's decision to not return to the Elite League had prompted his exit.
The Witches have raced in the Premier League for the last three years.
"It was a shock and something we've got to overcome. We intend to decide on his replacement next week," promoter Chris Louis told BBC Radio Suffolk.
"My name is certainly in the hat. We'll have to see."
Simmons told the East Anglian Daily Times:"The Witches job is unpaid and I was having to get people in to cover for me last year. That can't carry on.
"There were a few issues with the team, especially last season. I felt I could have had a bit more backing with one or two decisions, like changing the riding order last year as I wanted to do.
"I was also disappointed Leigh Lanham didn't get a spot in the team this year.
"But they are side issues, the main reason is, you need to be able to give up a lot of time managing in the Premier League because clubs are based all over the country."
Simmons indicated that he might have stayed on if the club had returned to the Elite League as it would have reduced the amount of travelling.
However, the Suffolk side voluntarily dropped into the Premier League in 2011, and promoter Chris Louis indicated a return to the top flight was not on the agenda.