Poole Pirates: Team chief Matt Ford allays stadium fears
Last updated on .From the section Speedway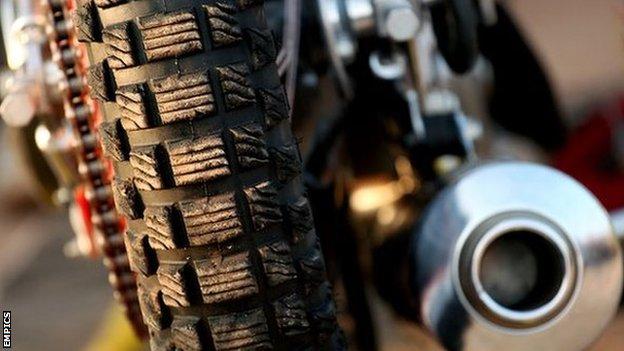 Poole Pirates promoter Matt Ford has reassured supporters that speedway will continue at Wimborne Road.
Ford was reacting to a Poole Stadium statement issued by Stadia UK - who are investigating the feasibility of football returning to the ground.
Greyhound racing is also held there and Ford says the potential return of Poole Town FC will not affect the Pirates.
"Racing will be held at Poole between March and October whatever happens," Ford told BBC Radio Solent.
"I have signed a contract at Poole Stadium for the next five years in respect of broadcasting rights.
"I have to make sure that is honoured.
"I would hate to think what it would cost some people to get into a law suit with Sky Sports (speedway's broadcasters), so we won't be doing that.
"We will be honouring the contract," he said.
Football matches were last played at Wimborne Road in 1994 and Ford says, although he would welcome redevelopment, he is disappointed he was not consulted first.
"It was a huge surprise, I knew nothing about it," Ford said.
"I am disappointed but I am not going to prolong that."
Speedway has been held at the venue for more than 60 years and the current Elite League champions regularly attract thousands of supporters.
"We have been there since 1948 and are probably the best tenants you could have in respect to how we pay," Ford said.
"We pay a season in advance and I'd like to think there is a great rapport between ourselves and the landlords.
"I am very supportive of the stadium being improved - that will be wonderful - but it must happen around the commitments already made by the club."