Speedway star Ryan Fisher could quit over family visas
Last updated on .From the section Speedway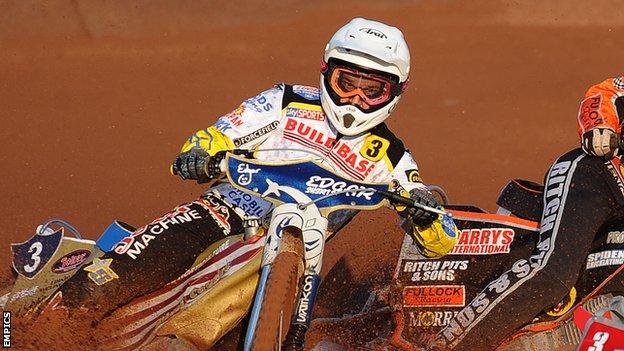 Coventry and Peterborough rider Ryan Fisher says he is finding it difficult to ride in British speedway after his family were evicted from the country.
The 30-year-old Californian's family have not been issued visas and were not let back into the UK after flying home for Christmas.
"I don't know how much more time I can go without seeing my family," he told BBC Radio Cambridgeshire.
"It's really tough and I'm pushing every day to get something done."
When Elite League side Coventry came into the ownership of Mick Horton, who also owns Premier League Peterborough, the Fisher family's visas had to be renewed.
However, only Fisher's was successfully cleared and his wife Daelyn and children Abby Jo (seven) and Harley (five) remained in the country for six months, unaware they were in Britain illegally.
The family owns a restaurant in Tamworth, but they cannot re-apply for visas until January.
"Not having my family here is one of the toughest things I've ever had to go through," said Fisher.
"I hope we can resolve it. My local MP Christopher Pincher (for Tamworth) is doing what he can."
Fisher is a Coventry asset who is doubling up with Peterborough this year. He is the top scorer for both sides, averaging 10 for the Panthers and nine for the Bees.