Speedway: Swindon Robins rider Darryl Ritchings is out of sedation
Last updated on .From the section Speedway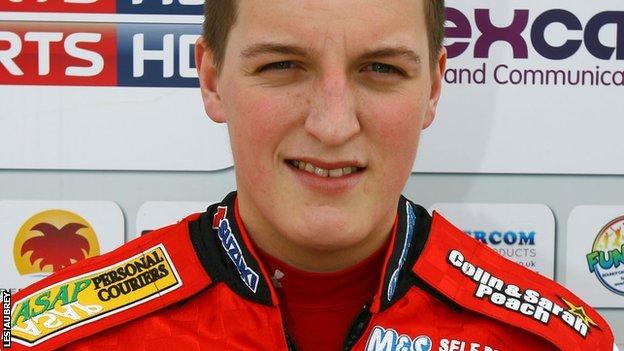 Speedway rider Darryl Ritchings has successfully been brought out of sedation after 13 days in hospital.
Ritchings, 19, suffered swelling on his brain following a crash while competing for Elite League team Swindon Robins against Coventry on Thursday, 3 April.
He was woken by doctors on Wednesday and is said to be responding well.
"The good news is that Darryl knew his daughter Poppy, and was also aware of things like his mother's birthday," Robins boss Alun Rossiter said.
Ritchings, who is at Oxford's John Radcliffe Hospital, also broke his ankle in the crash at Swindon's Abbey Stadium in which he collided with Bees rider Jason Garrity and hit the safety fence at speed.
The teenager is suffering from a slight chest infection is said to be slightly disorientated since regaining consciousness.
Rossiter told the club website: "Apparently the disorientation is normal for a youngster who has been through what he has, and it's now a case of taking things slowly day by day."
Ritchings, who also competes for the King's Lynn Young Stars in the National League, was handed the final place in Swindon's team for the 2014 Elite League campaign in February.
Swindon supporter Lee Kilby is helping raise money for the Purton teenager and will cycle from south west London to the Abbey Stadium in Blunsdon where Swindon take on Poole Pirates.