Ipswich Witches: Chris Louis stands down as manager
Last updated on .From the section Speedway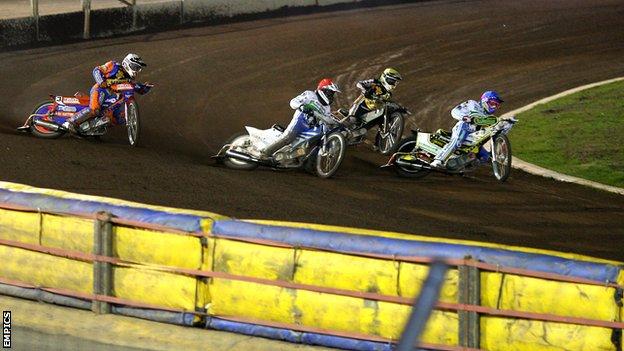 Chris Louis has quit his role as team manager of Ipswich Witches, only six months after taking the position.
The Foxhall side are third in the Premier League, but have lost four consecutive away meetings in the last two weeks.
"There has been a lot of soul searching," former Witches rider Louis, 44, told BBC Radio Suffolk.
"But I certainly wasn't under any pressure from the riders and I don't think from the fans either."
Brian Messenger, Ipswich boss in the mid-1990s, has taken charge of the team on a caretaker basis.
Louis, who won an Elite League, Elite League Knock-Out Cup and Craven Shield triple as a Witches rider in 1998, will continue in his roles as promoter and director of speedway at Foxhall.
Ipswich's third-place position is deceptive, as they have completed 14 meetings, which is up to nine more than other sides.
"I think we've got to a critical point in the season where we put ourselves under a little bit of pressure to get points from away fixtures and stay 100% at home," said Louis.
"I just felt I hadn't really got the best out of the team and don't think we're maximising the potential."