Plymouth Devils beat Redcar for their first league win in six
Last updated on .From the section Speedway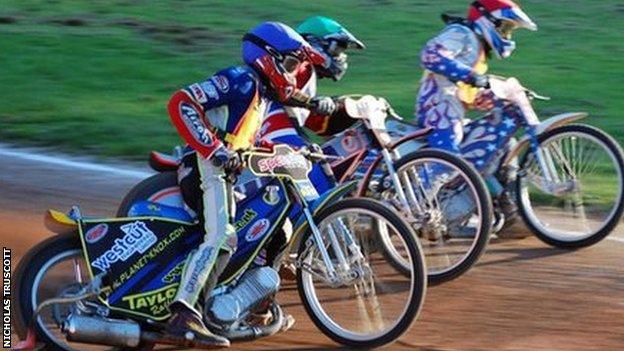 Plymouth Devils beat Redcar 50-41 to end a run of five successive Premier League defeats.
Reserve Roland Benko (11+1) top-scored for Plymouth in a match that they never trailed in.
Three heat maximums in the opening six races saw the Devils open up an eight-point advantage.
Plymouth never looked in trouble after that and despite a Redcar 5-1 heat maximum in the final race, the Devils took all three points.
The hosts won nine of the 15 heats with all bar guest Steve Boxall taking the chequered flag at least once.
To complete a busy weekend, Plymouth suffered two away defeats in as many days as they went down 51-42 at Workington and 46-44 at Glasgow.
Skipper Ben Barker amassed 25 points over the two away matches and guest Max Fricke scored a combined 24.
At Workington, the Devils kept it close in the early stages and trailed by just two-points after seven races.
But three consecutive 5-1s for the Comets in heats eight, nine and 10 ensured Plymouth left Cumbria pointless.
The Devils did however pick up their first away league point of the season at Glasgow.
After a tough start that saw Plymouth trail by 10 points after just three races, the visitors produced five of the last seven heat winners to take a bonus-point back to Devon.
The Devils are now third-from-bottom of the table, above Rye House on score difference and six points clear of bottom side Sheffield.
But the Devils have played four matches more than Rye House and eight more than Sheffield.