Birmingham Brummies: Elite League side hope to avoid closure
Last updated on .From the section Speedway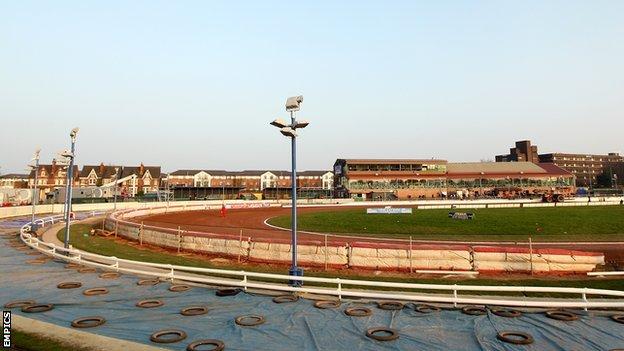 Birmingham Brummies hope that they can still be saved, despite making what threatens to be their final appearance.
The Elite League club, who have been forced to cancel two successive home meetings, lost 39-56 at Belle Vue on Monday night.
They have been given a deadline of 14 July by the British Speedway Promoters Association to sort out new backers.
"We've got two weeks to sort something out. It's all up in the air," team manager Jack Lee told BBC WM 95.6.
"At the moment, it's looking a bit grim. We're just hoping someone comes along and pulls us out of the hole we're in."
After running up debts, including stadium rent, under owner Alan Phillips, the Brummies have been facing closure since potential investor Tony Mole opted not to go ahead with plans to take over, having discovered the size of the club's debts.
"It's a bitter disappointment that it's now financially collapsed," said Mole."Frankly, it isn't viable to buy it."
The British Speedway Promoters Association had to pay the Birmingham riders both for last week's defeat by Poole Pirates and Monday night's reverse at Belle Vue.
"There's a lot of emotion," said skipper Danny King. "Some of the lads have been there ever since we went into the Elite League.
"It's heartbreaking to think this could be our last meeting, but we're going to try everything we can to keep it going. We don't want to just sit back and let it close.
"We need to get a bit more involved.
"I'm sure the BSPA are doing everything they can behind the scenes. They don't want to see a club close midway through the season."
After finishing as British speedway's runners-up to Poole Pirates in 2013, topping the table only to then lose 104-79 in the two-leg Grand Final, the Brummies have only won two of their 11 meetings this season.