Wolves legend Peter Karlsson returns to Monmore Green
Last updated on .From the section Speedway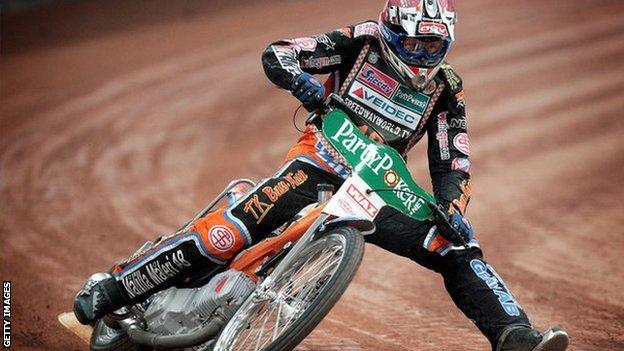 Wolverhampton have agreed a deal with their former star Peter Karlsson to ride for the club again for the rest of the season.
"When Peter Karlsson became available, we had to bring him back," said Wolves owner Chris van Straaten.
Along with Karlsson, Wolves have also brought in Danish rider Lasse Bjerre.
Peter Karlsson's roll of honour
World Cup (Sweden): 2000, 2003, 2004
Elite League (Wolverhampton): 2002, 2009
Premier League (Wolverhampton): 1996
Premier League KO Cup (Wolverhampton): 1996
UK clubs: Wolverhampton 1990, 1992-97, 1999, 2009, 2002-05, 2006-07, 2009, 2011, 2014
Peterborough Panthers: 2000, 2005
King's Lynn Stars: 2001
Belle Vue Aces: 2001, 2010
Lakeside Hammers: 2011-14
The pair will replace Ty Proctor and Ricky Wells in the line-up at Monmore, with Wolves' poor current form prompting the team's management into action.
"We don't feel we got it horribly wrong and both Ty and Ricky have served the club with pride and passion and I'm sure we've not seen the last of them in Wolverhampton colours," Van Straaten added.
"Ty and Ricky leave with our thanks and good wishes for the rest of the season and we look forward to seeing them back at Monmore Green."
Karlsson's association with stretches back more than 20 years and includes more than 500 races.
He twice won the Elite League with Wolves in 2002 and 2009 before leaving in 2011 and is a three-time World Cup winner with Sweden.
With world champion and number one rider Tai Woffinden on his way back after a taking a short break from the sport, Van Straaten, is hoping Karlsson can help revive the club's form after five defeats in their last six meetings.
"Tai is now back on song and it's exciting to see him riding alongside PK," Van Straaten said.
"We also welcome Lasse Bjerre and we feel sure he can score some important points for the club."
Karlsson is in line for his return to Wolves colours at Monmore Green on Monday, 4 August, against reigning champions Poole.