Plymouth Devils climb up to 10th after Peterborough win
Last updated on .From the section Speedway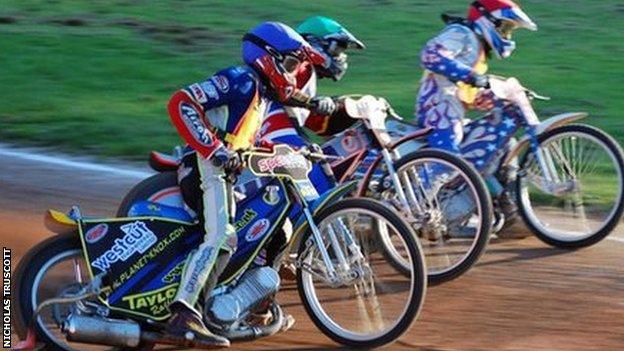 Plymouth Devils climbed up to 10th in the Premier League table after a 52-38 victory over Peterborough Panthers.
Ben Barker (11+3) top-scored for Plymouth with solid support from Sam Simota (11+1) and Kyle Newman (10+1).
The Devils opened up the meeting with a heat maximum courtesy of Barker and Newman and were never headed.
The hosts dominated, recording 10 of the 15 heat winners and the win means the Devils leapfrog the Panthers in the Premier League table.
After an opening heat maximum for Plymouth the two sides traded heat advantages leaving the Devils 17-13 in front.
That was as close as it got for the visitors though as they failed to take any heat advantages in the remainder of the meeting.
The win was Plymouth's fifth in-a-row at the St Boniface Arena but they are still without a win away from home this season.