Elite League: Leicester Lions sack captain Mads Korneliussen
Last updated on .From the section Speedway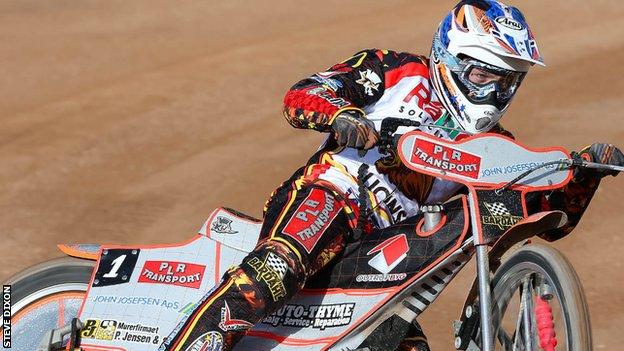 Leicester Lions have sacked captain Mads Korneliussen for his failure to appear for the Elite League Speedway club at Belle Vue last week.
Lions promoter David Hemsley said the Dane "lacked commitment", missing Monday's meeting in England despite racing abroad on Sunday and Tuesday.
The 31-year-old said that he told the club he was struggling with injury, but does not dispute his dismissal.
"There is no need to argue with them," Korneliussen told BBC Radio Leicester.
"I missed that Monday meeting and apparently that is a lack of commitment to [Lions team manager] Norrie Allan.
"If that is club policy, then that is what they run by."
Korneliussen, who was part of Denmark's World Cup-winning team earlier this year, suffered a hip injury riding for Leicester against Swindon on Saturday, 7 September, but went on to feature in Poland the next day, Sweden on Tuesday and Denmark on Wednesday.
British love affair
Korneliussen has had 12 season in British speedway having ridden for Newport, Swindon, Peterborough and King's Lynn before joining Leicester this term
He made his final appearance for Leicester on Thursday as the Elite League bottom side were beaten his former club King's Lynn.
"I rode in Poland and that was my mistake, I should have pulled out of that meeting because I was injured," said Korneliussen.
"In my aim to ride in the Swedish play-offs and do the last meetings for Leicester, I had to sit out Monday to be as fit as possible so I went straight to Sweden for physio on the Monday."
Promoter Hemsley said Allan's decision to axe Korneliussen was a clear statement about loyalty.
"I know Norrie has worked in sport a long time and he believes that when you make a commitment to club, then that is for the season," said Hemsley.
"As club captain he probably expected more commitment from Mads to Leicester than he got on that particular occasion.
"Norrie is very assertive on riders picking and selecting those meetings they want to ride in."
Leicester will complete their first season back in speedway's top flight at home against Poole Pirates on Wednesday.