Poole Pirates hail 'incredible' Elite League title success
Last updated on .From the section Speedway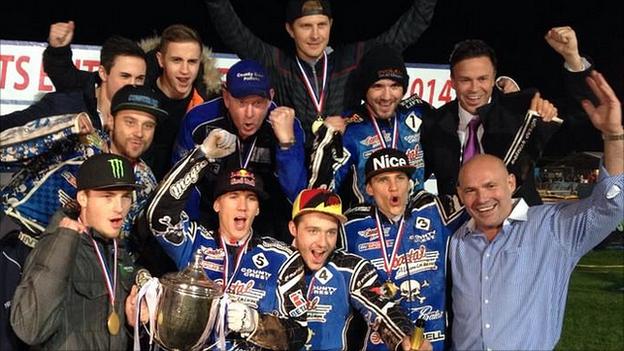 Poole Pirates promoter Matt Ford hailed their side as "incredible" after they retained the Elite League title.
They beat Coventry Bees 90-71 on aggregate in the Grand Final, their sixth title in the last 12 years.
It followed the silver medal they won in the inaugural World Speedway League.
"I'm really proud for everyone connected to the club, it's great for the town and the council. These are exciting times for the club," Ford told BBC Radio Solent.
The Pirates won the second leg 53-37 at Wimborne Road and may now need to build a new trophy cabinet.
"We genuinely have filled the shelves so we do need to do something but that's a lovely problem to be in," joked Ford.
The club may also look to host next year's World Speedway League as they attempt to go one better in that competition.
"We could have been world champions and next year we have a chance to go for it again. There is a chance we could host it," Ford continued.
Team manager Neil Middleditch
"There is something about wearing a Pirates shirt that just makes riders want to win."
Polish rider Maciej Janowski captained Poole to their victory, having taken over the responsibility from suspended Darcy Ward, and they hope to persuade him to return next season.
"Maciej Janowski has become world-class now. We are already talking to a few riders. We need to see what Maciej wants to do.
"I would love to see him back, he has a big year with the World Cup so we'll see if he can fit us in," Ford added.
Janowski paid tribute to his team-mates, saying: "This is our job, everyone did what they can. I'm so happy and so proud.
"It's the best feeling, it's hard to describe, you work hard all season so to take the trophy and medal is an amazing feeling."
Team manager Neil Middleditch said the victory would rank as one of the best of their six titles.
"Six. It's pretty impressive," he commented.
"There is something about wearing a Pirates shirt that just makes riders want to win. We've had a lot of problems, but we've come through and we're champions again."