Speedway: Brothers secure deal for Glasgow Tigers
Last updated on .From the section Speedway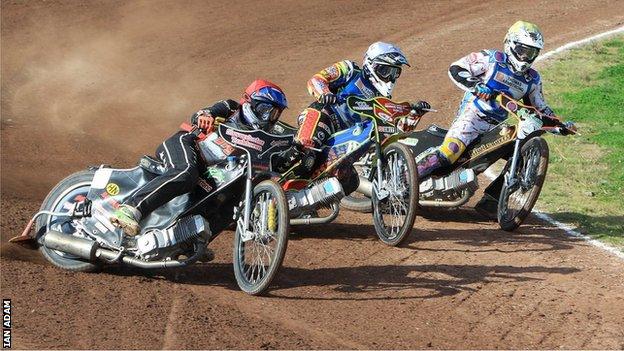 Glasgow Tigers speedway club has been bought by local businessmen Michael and Gerry Facenna.
The deal sees the club's debts cleared and includes the purchase of the Tigers' Ashfield stadium.
Junior football side Ashfield, who share the ground, will also benefit as the stadium undergoes renovations.
Tigers co-promoter Colin Hamilton said: "This is really exciting news for speedway and it's fabulous to know the Tigers have a permanent home at last."
The Facenna brothers have embarked on a far-reaching redevelopment of the Hawthorn Street stadium.
The first phase, scheduled for completion next spring, includes new stand roofs, improved terraces, a new entrance building and club shop, new toilets and improved disabled access facilities.
The deal secures the future of these two long-established Glasgow clubs - Ashfield FC was started in 1886 and the Tigers have been racing in the city since 1946.
Gerry Facenna said: "It would have been a tragedy for Glasgow to lose two such historic sporting institutions.
"My brother Michael and I decided we wanted to give something back to the community and saw an opportunity to help both the Tigers speedway and Ashfield football club. However, we believed we couldn't make a success of this without significantly improving facilities for fans.
"This needs a substantial investment which we are prepared to support, but only if we have security of ownership of the stadium. Now we have that in place, both the football and speedway clubs can look forward to competing in a much-improved environment, as well as returning to a secure financial footing."
Edinburgh Monarchs won the Premier League last season but Facenna had a message for the men from the capital.
"This year we're here to win the league," he told BBC Scotland.
"We're going to win the league this year and more importantly we're going to have an exciting team with good facilities, and Edinburgh won't have a chance of beating us this year."