Chris Holder: Poole Pirates targeting Elite League hat-trick
Last updated on .From the section Speedway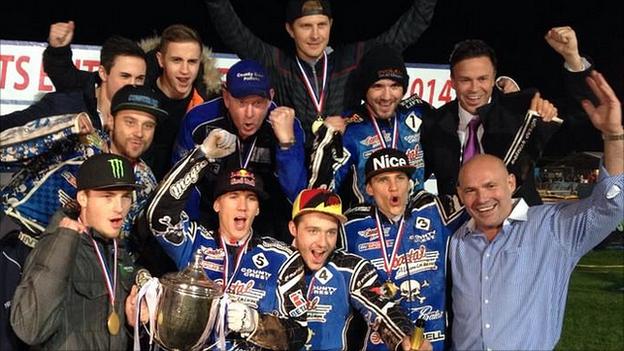 Former World Speedway champion Chris Holder says he is excited by his return to Elite League champions Poole Pirates and is determined to win trophies.
Holder, 27, is back at Poole permanently, as they look to secure a third-successive title.
"To win the championship is the main goal, we've got a good team and need to make the most of that and pick up some silverware," Holder told BBC South.
"The team is looking good across the board and we're all pretty strong."
Holder filled in for Darcy Ward during the early part of last season and he says he is relishing his permanent return, with a strong-looking Pirates side that includes Maciej Janowski and Davey Watt.
In 2013 he had a near career-ending crash in a meeting at Coventry having been crowned world champion in 2012.
"I'm really happy," Holder said, "I missed the last year coming back from a really bad injury but I was here most weeks watching so now I felt the time was right.
Poole Pirates 2015

Chris Holder

Australia

Maciej Janowski

Poland

Dave Watt

Australia

Dakota North

Australia

Kacper Gomolski

Poland

Kyle Newman

Great Britain

Paul Starke

Great Britain
"I feel a lot better and back to normal health and am looking forward to getting back into it.
"I needed to have a year off, there is no way I could have fitted in all those meetings and, financially, you need to be racing in Poland and Sweden."
Holder will be starting the season without fellow Australian Ward, who is banned until 28 June, and says his compatriot is coping with his suspension.
"He's going alright," added Holder. "It got dragged out a long time which did not help him but now he knows his punishment so he can make plans and move on."
Neil Middleditch: Team manager on 2015 prospects
"It's a good team, we've got plenty of experience and a bit of youth and lots of room for improvement.
"It's great to see Chris back, he's had a lot of injury problems and hopefully he can have a injury-free year.
"Darcy has been waiting since January for the hearing, it's over, we know his punishment, he's out until July and we have to wait see what options are open to us then.
"He's messed up two years of his career. It's a great shame. He's a precocious talent, a brilliant rider, but this is his last chance and he needs to knuckle down and put it behind him.
"We've won back to back twice now so to win three in a row would be fantastic. We've got the team to do it but the first objective is to get to the play offs.
Matt Ford: Promoter says door still open for Ward return
"It's dreadful shame for Darcy, I always want him to be in any team I put out and who knows what will happen later in the year?
"I wouldn't make a change to the team unless I felt we could improve. At the moment Darcy is aware of the situation. This is the team we have and I have great faith in them, I think we can win it with the seven we have.
"We've been made favourites again which always tells me we've done our job. I like the look of the team, we've got real strength in depth and it's exciting.
"It doesn't come much bigger than Chris in the world of speedway. Davey is our lucky charm, has been here before and won it four times with us.
"This winter has been a bit of a slog but now we are here we get a bit of a buzz. To win a seventh is more important to me than three in a row. Let's win a championship, that is why we are here."