Darcy Ward: Poole Pirates rider has 'learnt a lot' during suspension
Last updated on .From the section Speedway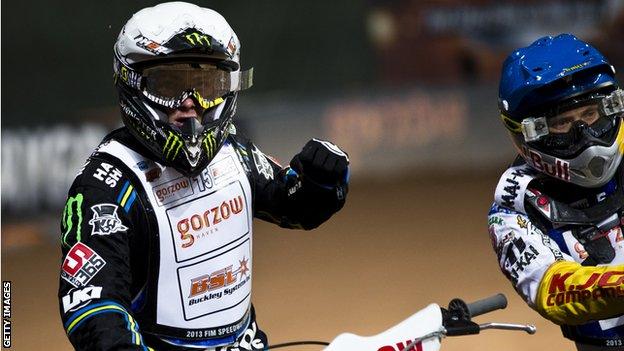 Poole Pirates rider Darcy Ward says he has "learnt a lot" during his 10 month ban for failing a breathalyser test.
The former world under-21 champion's suspension ends on 28 June.
"It's been a positive time off the bike. I've learnt a lot, got to see a lot of stuff that I wouldn't normally and seen things a lot differently," Ward told BBC Radio Solent.
"If I was on the bike and went on to be world champion last year, or on the podium, I probably would've thought I could do anything."
Ward watched on as the Pirates beat King's Lynn 58-34 to go top of the Elite League.
The 23-year-old was also forced to sit out as the Dorset side won the 2014 title.
"I went home to Australia. I'm lucky I don't have to work, having the lifestyle I do, so I had a good time and travelled a bit," added Ward.
"I've realised there are things I need to improve on. I look forward to a steady career now."
Ward has said he intends to remain with Polish team Torun and Swedish side Piraterna, though is considering a loan move away from Poole.
"I'm comfortable with not riding here. Obviously I want to, but I don't want to intrude.
"I've had quite a bit of (English) interest. I've got a couple weeks to decide but time isn't on my side as other clubs need to make decisions too."