Olly Allen: Speedway fences need improvement
Last updated on .From the section Speedway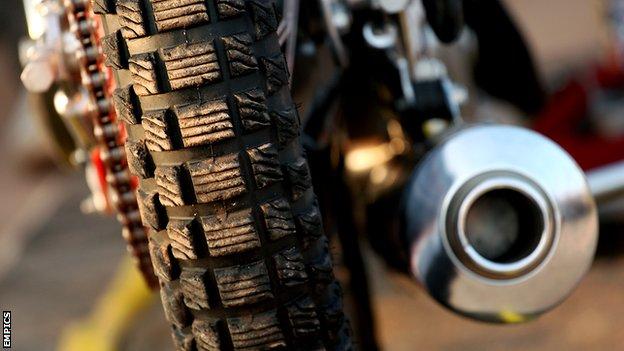 Speedway rider Olly Allen believes fences need to be improved to stop more injuries occurring in the sport.
Peterborough rider Allen's season was ended when he went underneath the airfence and tore ankle tendons.
"Airfences are without a doubt a 100% improvement to our sport. It absorbs the impact really well and is better than hitting a solid fence," he said.
"But there are still improvements that can be made - the airbag needs to be maybe tied down somehow."
Norwich-born Allen was speaking after Rory Schlein underwent an emergency spinal operation following a crash during a meeting in Poland.
Schlein is back in the UK, and Allen, who also dislocated his foot in his crash, was concerned by the number of injuries currently in speedway,
"Over the last few years there's been some terrible injuries, and there was a death to Lee Richardson who was another close friend of mine," Allen told BBC Radio Norfolk.
"As soon as I heard Rory was going for spinal surgery, I was really worried for him and for his family; he's got two young girls.
"But I was so relieved to hear he's OK and the quality of his life won't change too much, fingers crossed.
"It's going to be a long road to recovery, but he'll get there; he's a strong guy."