Rory Schlein: Speedway rider feared paralysis after Poland crash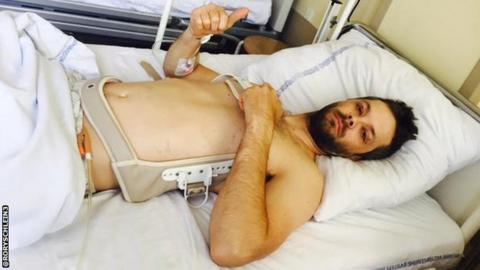 Australian speedway rider Rory Schlein says he was worried he could lose the use of his legs after fracturing two bones in his back in a crash in Poland.
The 30-year-old fractured two vertebrae while competing for Lodz on 24 May.
"They found bone fragments in my lung and kidney," the King's Lynn rider told BBC Radio Norfolk. "The huge risk was moving fragments out of my spinal cord.
"That's when they said if there's problems I could lose the use of my legs."
He continued: "It was pretty messed up to know that you can feel your legs when you go into an operating theatre and not feel them when you wake up.
"The operation was over six hours. I woke up and I could move my legs, lay there with a smile on my face and asked 'Give me more drugs'."
Hear Schlein's story
Listen to full interview with Schlein here
Schlein, who has ridden for seven British clubs including Coventry and Ipswich, is now walking again, but has to wear a back brace for the next three months.
However, he revealed he did briefly lose feeling in his legs while being prepared for the Polish hospital at the racetrack.
"The pain was probably the worst I've experienced. I've broken my back before, but some fractures in backs are not too serious, but this pain was a little bit different.
"It hit home when they rolled me onto the spinal board and as they did that I lost feeling in my legs for 10 minutes.
"For 10 minutes my whole life was changing - a lot of things went through my mind. When they straightened me out all the feeling came back, which was very unpleasant because it was really bad."
The crash has left him with eight screws and two metal rods in his back, and Schlein says he needs to think carefully about whether he will ever race competitively again.
"The time for me to decide whether I'm going to come back will be when I'm fit in about six or eight months' time. Only I will know when I get on a bike.
"It's something I'm going to have a long think about because not only has it affected me, it's affected my home as well - my kids went through a lot.
"Speedway's my job but I've got to put life in to perspective. I'll definitely be back on a bike - whether that's competitively or just having a skid, only I'll know."