Darcy Ward: Injured Speedway rider set to be flown to UK
Last updated on .From the section Speedway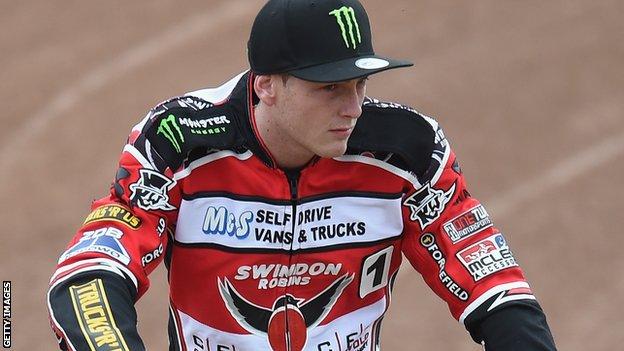 Darcy Ward is set to be flown to England to continue treatment following a serious crash in Poland.
The Australian, on loan to Elite League Swindon from Poole Pirates, suffered spinal injuries during Zielona Gora's meeting against Grudziadz on Sunday.
Ward, 23, underwent a two-and-a-half-hour operation in Poland where doctors described his condition as stable.
Zielona Gora officials earlier confirmed his family are not disclosing the full details of his condition.
During a news conference, club doctor Robert Zapotoczny said Ward's health had improved since Monday.
"The case is difficult, but there is a glimmer of hope," he said.
"Hope you cannot take from anybody. Now Darcy faces a very, very intensive process of rehabilitation, psychologically and physically."
Poole Pirates promoter Neil Middleditch and rider Chris Holder have been by Ward's bedside since Monday.
Ward recently returned from a 10-month ban after failing a breathalyser test in August 2014 and signed for Swindon in July.