Elite League: Coventry Bees boss Havelock delighted by team spirit
Last updated on .From the section Speedway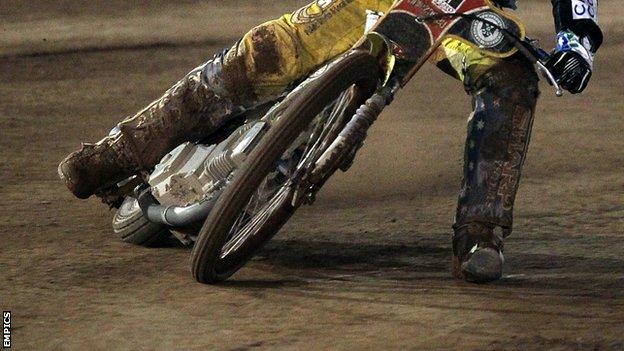 Coventry boss Gary Havelock praised his side's battling spirit after a late rally earned them a 45-45 draw in the first leg of their Elite League play-off semi-final against Poole.
The Bees trailed the Pirates by eight points with two races to go at Brandon.
But Hans Andersen and Danny King came up with successive 5-1 wins in Friday night's final two heats.
"It just shows the spirit in the camp to go out and get two 5-1s," Havelock said afterwards.
"I'm sure people thought we were dead and buried after Heat 13. But, if nothing else, that gives Poole something to think about. We've pulled it back to get a draw, and it's all on now."
How the points were scored
Coventry:
Hans Andersen 13+1, Jason Garrity 9+2, Danny King 8+1, Chris Harris 6+1, James Sarjeant 6, Fredrik Lindgren 3+1, Kyle Howarth 0.
Poole:
Maciej Janowski 10+1, Kyle Newman 10, Davey Watt 9+1, Chris Holder 8+2, Kacper Gomolski 8+1, Dakota North 0, Paul Starke 0.
Poole now have home advantage in Monday night's second leg, but the Bees are at least still in it.
"We've got to go there with belief, and give it to them," added Havelock. "It's now a one-meeting dash, and we've got to try to hit them hard.
"The best thing was the form of Hans. He was absolutely sensational.
"We need him riding like that at Poole as well if we're going to have a chance there."
Coventry have injury concerns about captain Chris Harris and Jason Garrity, who rode on despite being left in great pain from an ankle injury, while the gritty King's late efforts were all the more impressive as he had twice been involved in crashes on the first bend.