Speedway: Edinburgh Monarchs lock horns with Glasgow Tigers
By David Currie
Reporting Scotland presenter
Last updated on .From the section Speedway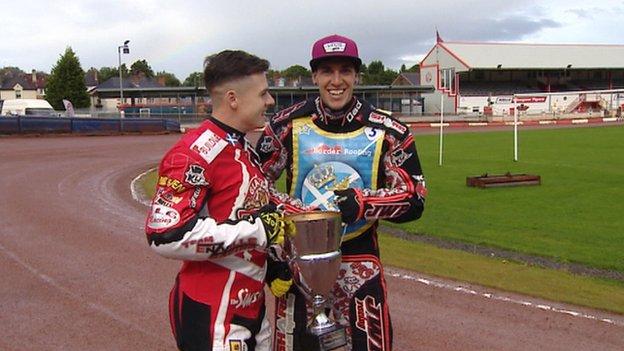 It is the contest Scottish speedway fans have wanted for more than 20 years.
This weekend, Edinburgh Monarchs take on Glasgow Tigers in the British Premier League Cup final.
Contested over two legs, it is the first time the country's big two have met in the showcase final since 1994.
The Monarchs have home advantage in the first leg on Friday at Armadale, with the second leg at Tigers' Ashfield track on Sunday afternoon.
Australian Sam Masters says the Monarchs' riders are relishing the contest.
"The pressure is probably on Edinburgh as defending champions to retain the trophy, especially as it's against our arch rivals," he told BBC Scotland.
"It's going to be hard as we know each others' tracks really well, racing against each other throughout the season and it's that time of the year when everyone is on form and pretty dialled in. It'll be tough."
What happens in the final?
Played over two legs; 15 heats in each leg
Four riders in each heat (two from each team)
Heat winner gets three points; second two; third one
Scores from heats added to total
Scores from each leg added for overall result
Tigers team manager Stewart Dickson says the sides contesting the final are flying the flag for Scotland.
''There are 13 teams in the Premier League and only two of them are Scottish," he said.
"It's been a tremendous season for both teams to reach a national cup final.
"The last time that happened was 21 years ago, so they don't come round too often. It's a big occasion for us all.
"Up to 500 Glasgow fans will travel through to Armadale and Monarchs will bring a massive crowd to Glasgow on Sunday.
"There will be quite an atmosphere and it'll be nerve-tingling for everyone involved."
Tigers' Sheffield-born rider, James Sarjeant, says the final will be close but is confident Glasgow can win the trophy for the first time since 2011.
''We've won through at Armadale already this season, so there's no reason why we can't win there again tonight and go on to win in Glasgow on Sunday too.," he said.
However, Edinburgh's Sam Masters insists the outcome is too close to call.
"They've beaten us on our track, but then we beat them on theirs at Ashfield a few days later," he said. "It just goes to show you that either team can win the trophy."
Scottish speedway fans are passionate about the sport, but there will not be a Scottish rider on either side to cheer on this weekend.
"Glasgow had one a few years ago [James Greaves] and Edinburgh were captained by a Scot - Derek Sneddon until last season - but at the moment we're a bit thin on the ground," said Dickson.
"So we're hoping to build a training track here in the not too distant future and start bringing young Scots talent through."