Monarchs beat Tigers in British Premier League Cup final
Last updated on .From the section Speedway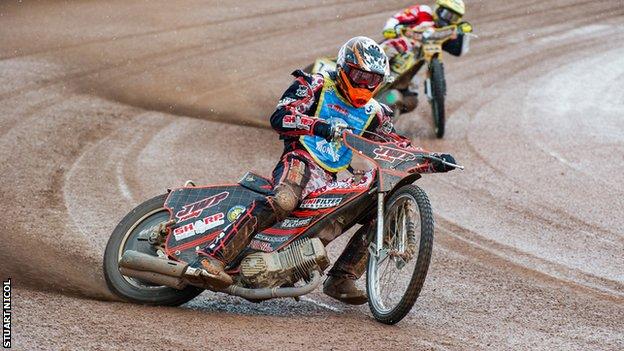 Edinburgh Monarchs beat their rivals Glasgow Tigers to win the British Premier League Cup final.
The Monarchs clinched the victory on Sunday after a 45-all draw at the Peugeot Ashfield Stadium.
It followed a 55-34 loss in the first leg on Friday night that left the Tigers needing a massive turnaround.
In the first 21 heats of the final, Glasgow managed just two winners and that ultimately proved to be their downfall.
And even though they fought back from 12 behind in the second leg to get the draw, it was too little, too late for the club in their first final under their new owners.
It was the first time Scotland's top two teams have met in the final since 1994.
"The better team won over the two legs," said Tigers manager Stewart Dickson.
"On Friday night we were simply blown away, unfortunately, and today was looking very much the same. We were 12 points down and then we got back to a draw.
"It's disappointing - you don't want to lose the final. I'm sick of the sight of Edinburgh celebrating up at the fourth bend with their fans every time they come to Ashfield.
"My riders are feeling it - they're down about it as well - because you want to be winning things. It's an achievement to get to the final but nobody remembers the losers, that's the bottom line."
The Monarchs led the final from their 5-1 win on the opening heat of Friday's meeting onwards.