Cradley Heathens still a viable project, says chairman Pearson
Last updated on .From the section Speedway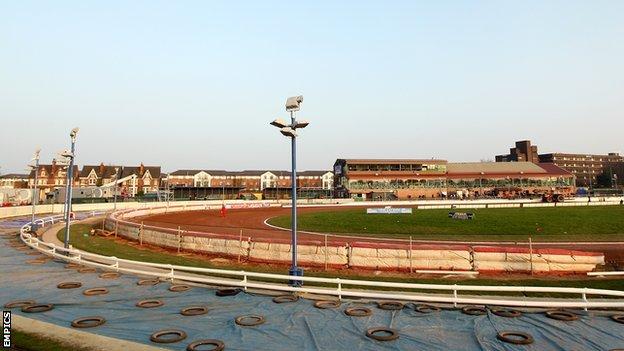 Cradley Heathens chairman Nigel Pearson is confident that the National League club can find new owners as it is still a sustainable business.
"There are interested parties and we're in the process of drawing up a non-disclosure confidentiality agreement," Heathens co-owner Pearson told BBC WM.
The current management team of Pearson, Gary Patchett and Chris Van Straaten can no longer commit the time needed.
But Pearson insists it's "been self sustainable over the last six years".
He added: "That will be no different for any incoming party.
"You're not going to get rich but you'll at least wash your face, as they say, and keep the club running."
The National League side, who have shared a stadium at Perry Barr with National League neighbours Birmingham Brummies this season, warned earlier this month that they might have to close down just five years after being reformed by Pearson and his consortium.
No mistake at all . . . Cradley's track record
Cradley won 13 trophies in 17 years in their heyday from 1978 onwards. The club also produced seven speedway world champions in that time. But, after losing their Dudley Wood track in 1995, they closed down a year later, only to be revived in 2010. They raced mostly at Monmore, Wolverhampton, for the first four years. And they have raced in 2015 at Birmingham's Perry Barr, primarily a dog track. But they are still seeking their own site.
But speedway nut Pearson, a major media figure in the sport, is simply looking to put the hands of the club into a fellow enthusiast who can devote the time needed.
"We went into it to bring the name back, the Heathens, bring fans back into the sport and try to get a new site of our own," he added. "And, with a solid budget and a decent business plan, this project is viable.
"If it had gone wrong for Gary, Chris and myself, we'd have had to put our hands in our own pockets. But we never went into it to make money.
"I've heard some of the figures bandied around and, if they were true, I could afford to go and live in Barbados for the rest of my life. But that's fantasy land. It's all about realism.
"The Heathens and the Birmingham Brummies here at Perry Barr is a joint project. We're deadly rivals but it's worked nicely this year."
In their final home fixture of the season on Wednesday night, the Cradley management team were forced to apologise to fans when their Knockout Cup Final first leg with Eastbourne at Perry Barr had to be abandoned after 10 of the 15 heats with the scores level at 30-30. The second leg against is at Arlington this Saturday night.
The Heathens had come from eight points down with consecutive 5-1 maximums when the meeting, running late due to poor, weather-related track conditions, was abandoned because of the 22:00 BST time curfew.
"Several aspects of the meeting were, in our opinion, handled badly," said a club statement, "some of which were taken out of our hands but, as a management team, ultimately we have to take responsibility. We offer our sincere thanks to supporters who were patient during track work."