Plymouth Devils: Speedway in Plymouth's future 'secured' after stadium sale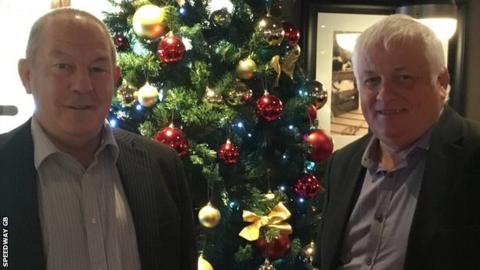 Speedway team Plymouth Devils say the future of the sport in the South West has been "secured" after selling their stadium to an unnamed local bidder.
The Devils, founded in 2006, folded in October because of financial problems.
However, former rider Mark Phillips and ex-Coventry Storm manager Laurence Rogers have been revealed as the promoters of the new Plymouth Speedway.
And the club will enter the National League in 2017, subject to approval by the speedway control board.
"This is an early Christmas present for the Plymouth fans.
"We have our plans in place and now the work really starts for us as we commence work to find a team sponsor and other backers and advertisers," said Phillips, the former promoter of Cornwall-based Trelawny Tigers.
"I have known Mark since he rode for me at Somerset back in 2000-01 and we have remained good friends.
"He approached me to see if I would become involved in this venture and here we are now just needing the member teams of the National League to rubber stamp our league spot at the AGM in December and I am very hopeful they will welcome the Devils back into the league," Rogers added.
The Devils finished 12th in the second-tier Premier League in 2016, winning eight of their 24 meetings.
Simon Cornelius-Light, from the property consultancy behind the sale of St Boniface Arena, said: "I am sure all fans of the Plymouth Devils will be delighted to hear that the club has been rescued and that speedway will make a welcome return next season."