A winner's story: Sports Unsung Hero 2010 Lance Haggith
Last updated on .From the section Sports Personality
Basketball coach Lance Haggith of Bedfordshire won the 2010 Sports Unsung Hero award for establishing SportsTraider, Britain's first chain of charity sport shops, which sell a mixture of new and second-hand sports kit and equipment.
The stores make specialist clothing and equipment affordable to youngsters for whom such items would normally be an inaccessible luxury.
The takings then get pumped back into the local community to help disabled and disadvantaged youngsters to access sport.
Here, Lance describes what life has been like since winning the Unsung Hero award in front of 12,000 people at the LG Arena in Birmingham.
LANCE'S STORY
"Since winning the Unsung Hero award last year I have been overwhelmed by the response from the general public.
This year we have been able to provide coaching sessions in local schools and we have organised more summer camps than ever, helping so many more disadvantaged children in Bedfordshire and the East Midlands.
The shops themselves have become a social hub and we have now started an ex-offenders program to help them gain work experience in the retail industry.
We are reducing landfill by promoting recycling and encouraging businesses and individuals to donate their unwanted items.
We have now attracted some big-name corporate backing to help propel SportsTraider to the next stage and the award has enabled me to open many more doors, which I never would have been able to do before.
A good example of this is securing more regular donations from big suppliers which has directly benefitted hundreds more people.
We are in the process of opening another store, which will then help another community.
One of the largest benefits has been securing a warehouse, which we can grow into as we are up to the rafters in our old place!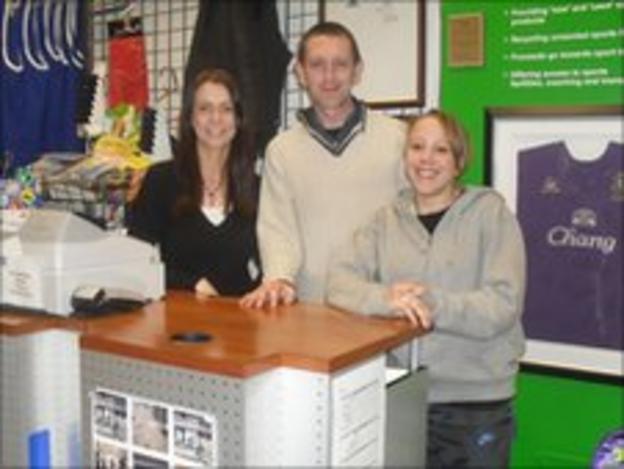 The project has reached so many more people, all of whom are so grateful for the opportunities we help to provide.
One of our shop managers Mike Owen was homeless and living on food handouts before he came to SportsTraider; he now has a flat and a permanent job.
Another shop manager Mandy Beal comes from a family of seven sisters and three brothers and the shop is directly for families like hers so they can buy clothes/sports equipment at affordable prices.
Mandy only has 40% hearing and had previously struggled to find employment, but she now has a permanent job with us.
Both Mike and Mandy have gone through their retail qualification up to NVQ Level 3.
We are regularly in contact with sporting icons, professional clubs and local dignitaries to tie in with our programs.
For example, we held a members meeting at the House of Commons in October, featuring appearances by Patrick Vieira and the Bedford MP Richard Fuller.
I just want to take this opportunity again to thank everyone for their input as I wouldn't be able to do it without the team of people behind me.
Winning the award has changed everything and has been hugely positive for the project as a whole."
This year's search for an Unsung Hero has begun.
So if you know someone like Lance, whose unselfish and hard-working commitment to sport in their communities deserves recognition, please click on the link below to open up a nomination form. Completed and returned forms will be forwarded to their respective BBC region across the UK for judging.
Please fill out the form below and post as directed, or email the completed form to: sportsunsunghero@bbc.co.uk
Unsung Hero nomination form (Word)
Nomination forms must be returned by 2359 GMT on Sunday 30 October.