Yendys' Syd Smailes, wins BBC Midlands Unsung Hero
Last updated on .From the section Sports Personality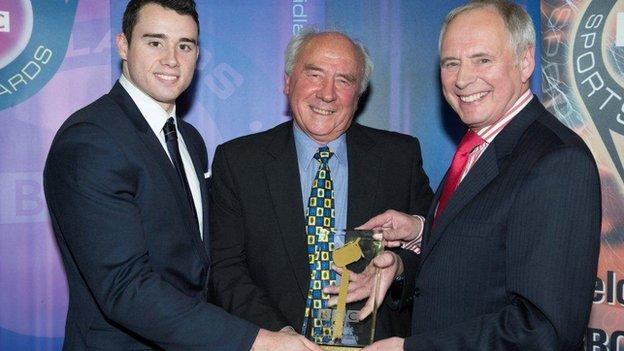 Syd Smailes, from Yendys Netball Club in Walsall, has been chosen as the BBC Midlands Sports Unsung Hero for 2012.
Just a few weeks short of his 75th birthday, netball has been his sporting love for the past 47 years.
He still devotes most of his week to coaching, umpiring and even washing the kit at the club named after him (Yendys is Sydney's name spelt backwards).
Smailes received his award from Olympic bronze medal-winning gymnast Kristian Thomas at a presentation evening.
"Syd is one in a million," said Yendys treasurer Stephanie Perry. "He dedicates his life to the sport and the ongoing development of netballers at grass roots level.
"He is selfless, humble, passionate, caring, friendly, fatherly, dedicated, organised, a great communicator, inspiring and reliable.
"And he is a great ambassador for a sport that doesn't get a huge amount of press."
He was a keen amateur footballer and snooker player when, through his wife, he first became involved in the sport as an umpire in 1965.
He was then involved with other clubs prior to joining Yendys 20 years ago, since when he has coached plenty of girls who have gone on to represent England.
The teams he has coached have won plenty of titles, but he says his proudest achievement is that players who started with him as young girls are still with him decades later, as coaches.
He has also helped out numerous local schools with netball training and programs to help young people get involved in the sport.
He now goes forward to the National BBC Sports Unsung Hero Award, along with the 14 other regional winners, to be announced at the BBC Sports Personality of the Year on Sunday, 16 December.