Belfast man Sam McBurney is BBC Sport NI Unsung Hero 2013
Last updated on .From the section Sports Personality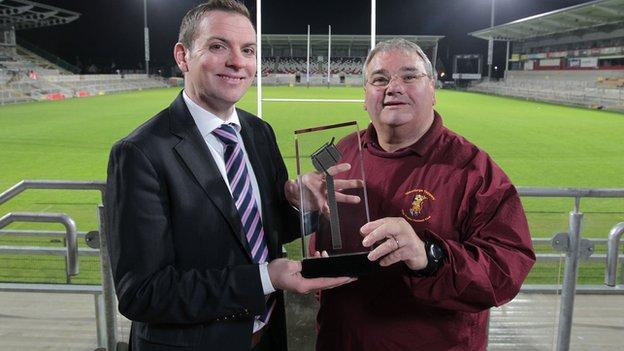 Belfast man Sam McBurney has been named as BBC Sport Northern Ireland's Unsung Hero for 2013 for his commitment and dedication towards giving young people with learning difficulties an opportunity to play rugby.
The Newforge Taggers Tag Rugby Football Club was established in September 2006 for those with learning disabilities and was the first club of its type in Ireland.
Sam was one of the founder members of the club and has been dedicated in the last seven years to those who otherwise may not have an opportunity to get involved in sport.
As Head Coach for the club, Sam is part of a team of people who all volunteer their time for the Newforge Taggers, a club which has led the way for other Tag Rugby clubs opening across Northern Ireland.
He spends his time coaching the members of the clubs, and also in promoting and fundraising for them.
He was announced as the winner of the BBC Sports Unsung Hero award 2013 for Northern Ireland on Wednesday 6 November live on BBC Newsline and accepted his award from BBC Sport NI's Thomas Kane at Ulster's Ravenhill Rugby ground.
Now in its 11th year, the BBC Sports Unsung Hero Award recognises and rewards outstanding contribution by individuals at the grassroots level of local sport, who give up their time on a voluntary basis so that sport can be played and enjoyed by people throughout the UK.
Sam now progresses to the Unsung Hero final as the regional winner for Northern Ireland.
He said: "I am absolutely delighted and honoured to receive BBC NI's Unsung Hero Award for 2013. I accept the award not only for myself but in recognition of the many hours put in by all the team at New Forge Taggers who provide people with learning disabilities the opportunity to participate in and enjoy rugby, a sport that they love.
"I would also like to take this opportunity to thank Ulster Rugby for their support in setting up our club, which was the first of its type in Northern Ireland and for hosting the International Tag Festival which will take place next year in Ravenhill.
"It will be a great honour to represent our club at the main awards night in December."
Unsung Heroes from the Scotland, Wales, Northern Ireland and 12 English Regions will attend the star-studded 60th BBC Sports Personality of the Year show, in Leeds on 15 December where an overall Unsung Hero winner will be announced.
Shane Glynn, Sports Editor, BBC Northern Ireland, said: "Sam is a very worthy winner of BBC Sports Unsung Hero title in Northern Ireland as he provides an outlet for many people who may not otherwise have the chance to get involved with sport.
"As in previous years, it has been difficult to pick a winner from those who were nominated - there are so many people here who make such a valuable contribution to their sport and to their area.
"Thanks to all who nominated their Unsung Heroes. Sam is an inspiration and we wish him all the best at the overall awards in December."