Andy Murray a man of whom all of Britain should be proud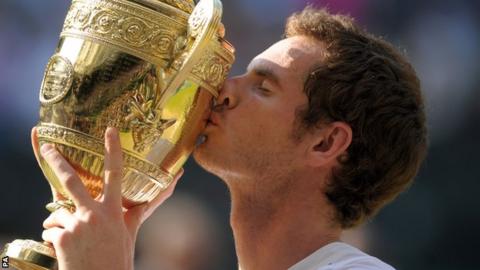 When the British public first met Andy Murray, it certainly wasn't love at first sight.
His small talk failed to impress, and too few of us took the time to work out what makes him tick, or to consider how difficult it must be to negotiate those first few years of adulthood in full public view.
But then he became a champion - at both the Olympics and the US Open - and cried into his microphone as a Wimbledon runner-up.
He was the sporting public's third-favourite in the year of the London Games, and now - after adding the title that British fans so craved - has topped the popular vote by a landslide to become only the second male tennis player to be named BBC Sports Personality of the Year.
He doesn't crave celebrity, or particularly enjoy the limelight, and would rather be out walking the dogs with his girlfriend Kim than strolling down the red carpet in his tux. But the emotion in his voice as he accepted the award from Martina Navratilova in Miami was evident: this means an enormous amount to him, and he would have loved to be in Leeds to accept the award in person.
It would have been out of character, though, for Murray to break away from his crucial pre-season training block, especially as he has not hit a ball in match conditions for the past three months.
He finally decided to have surgery on the troublesome back that forced his withdrawal from this year's French Open after helping Great Britain beat Croatia to return to the World Group of the Davis Cup. A September operation was followed by October rehab at both the National Tennis Centre in Roehampton and Chelsea's training complex in Cobham, where he was able to enjoy an underwater treadmill and the occasional chat with Jose Mourinho.
He arrived in Miami in the middle of November to train with close friend Ross Hutchins (who will return to the doubles circuit in a couple of weeks after recovering from Hodgkin's lymphoma) and Britain's top teenager, Kyle Edmund. Coach Ivan Lendl has been cracking the whip, and at times Serena Williams has been practising on a neighbouring court.
Murray and his team are "cautiously optimistic" he will be in good shape for next month's Australian Open. This winter's training cranked up more slowly than usual, with the Wimbledon champion only starting to play full points again 10 days ago. The hardest work will be done in the last few days, which is why Murray felt he couldn't afford to travel back to the UK.
He intends to train at Crandon Park until Christmas Eve, and after a flight to Abu Dhabi for an exhibition which begins on Boxing Day, may well find himself back on court just as the rest of us are contemplating a second portion of Christmas pudding.
The rewards are immense, but it's an example of the sacrifices Murray has consistently made to become Britain's first Wimbledon men's singles champion for 77 years.
The 26-year-old's hand started to shake at about 5.15 on that Sunday afternoon in July, where the on-court temperature peaked at nearly 50C. Novak Djokovic had just saved three championship points, but after Murray himself saved three break-back points, the Serb hit a backhand into the net. Andy Murray was the Wimbledon champion.
He has been blessed with an exceptional eye, imagination and athleticism, but they are qualities which will only take you so far. Excruciatingly hard work, a forensic approach to preparation and staggering self-discipline have turned Murray into an athlete, and a man, of whom the whole of Britain should be proud.
Lendl, who was on the shortlist for coach of the year, made a telling contribution to July's triumph. Advice from a man who also lost his first four Grand Slam finals, before going on to win eight others, carries enormous weight and Murray has praised Lendl for the honesty which helps him learn more from defeats.
Huge credit must also go to a support team which includes fitness coach Jez Green, strength and conditioning expert Matt Little, hitting partner and assistant coach Dani Vallverdu, and physios like Andy Ireland and Johan de Beer.
And so to 2014: what will the new season bring? After kicking off against Jo-Wilfried Tsonga in the Abu Dhabi exhibition on Boxing Day, Murray makes the short trip to Doha where Rafael Nadal is also in the field for the Qatar Open.
Becoming world number one - as unrealistic as it currently is - is not a priority, but adding to his tally of Grand Slam titles is. He would love to reach the final at Roland Garros - to complete his set of major finals, and prove his back surgery has been an overwhelming success - but the real targets are in New York, Wimbledon, and on the plexicushion of Melbourne in just a few weeks' time.
Nadal and Djokovic will have similar aspirations, but if the last stages of his rehab continue to go to plan, Murray should be as physically and mentally fresh for a new season as he has ever been.