BBC Sports Personality 2014 contender: Charlotte Dujardin
Last updated on .From the section Sports Personality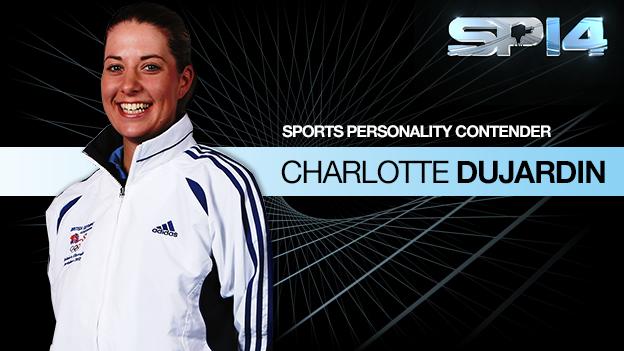 "Her success has probably been even bigger than the Olympic legacy for British dressage" - Carl Hester on fellow London 2012 Olympic equestrian gold medallist Charlotte Dujardin.
Dujardin is the latest in our series of profiles in the run-up to the BBC Sports Personality of the Year award on 14 December, as we focus on one of the 10 shortlisted contenders each day.
Year in a nutshell
Made history by winning two gold medals at the World Equestrian Games

First British equestrian rider to be Olympic, world and European champion at the same time

Picked up gold in the freestyle and grand prix special, plus a silver in the team event on her horse Valegro

At Olympia, won the London stage of the dressage World Cup and holds the world record in all three elements of her sport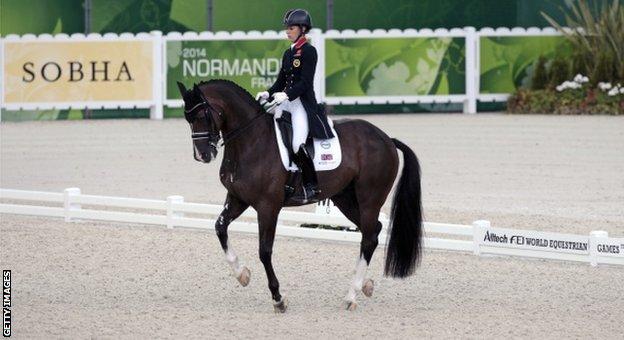 The inside track on Charlotte Dujardin
Dujardin's mentor and fellow Great Britain Olympic team dressage gold medallist Carl Hester gives his thoughts on the 29-year-old rider.
"It's a great story for anybody who still holds this image of equestrian sport being elitist - Charlotte was my groom. I started as a groom too - even for those who can't afford riding lessons, it is possible to get on," he said.
"She is as good as any of the top medallists - on a global scale, she holds all of the world records.
"It is the attention to detail that has won these gold medals - the endless days of sitting there and doing it again and again, the repetitions until it becomes a flowing performance.
"People say to me 'the horse does all the work', and I say 'great, that's how it's supposed to look - the elegant passenger'.
"You can imagine the mindset that goes into doing 36 movements of gold medal standard without a mistake. She has to have the commitment and ability not to be bored of the details. You have to be tenacious, and that is what she is.
"She comes across as very bubbly, but doesn't go out that much - her focus and concentration has to be 100%.
"Her success has probably been even bigger than the Olympic legacy. It has had a knock-on effect. Dressage is the fastest growing of the equestrian disciplines.
"Charlotte reckons she was recognised in the supermarket the other day, but I'm not so sure!"
Four facts about Charlotte Dujardin

Dujardin started riding as a two-year-old and by the age of 16 had won the Horse of the Year Show competition four times and was a winner at Hickstead on three occasions.

At London 2012 where she was known as the 'girl on the dancing horse', Dujardin set a new Olympic record as she won team and individual dressage gold.
She left school at 16 to become a stable hand with trainer Judy Harvey. In 2007, Olympic dressage stalwart Carl Hester offered her a job as a groom at his yard in Newent, Gloucestershire, where she has remained, becoming his full-time rider.

Land of Hope and Glory, The Great Escape, James Bond theme Live and Let Die and the chimes of Big Ben were part of Dujardin's soundtrack to her dressage routines as she won gold at the London 2012 Olympics.
Carl Hester was talking to BBC Sport's Frank Keogh