BBC Sports Personality 2014 contender: Carl Froch
Last updated on .From the section Sports Personality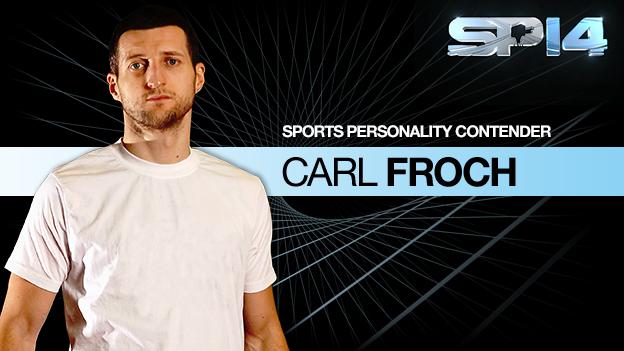 "He is ridiculously tough, with an incredible ability to digest pain" - 1985 BBC Sports Personality of the Year winner Barry McGuigan on boxing world champion Carl Froch.
Froch is the latest in our series of profiles in the run-up to the BBC Sports Personality of the Year award on 14 December, as we focus on one of the 10 shortlisted contenders each day.
Year in a nutshell
Carl 'The Cobra' Froch retained his IBF and WBA super-middleweight titles against bitter rival George Groves

After a controversial bout in November 2013, the two met again in front of a British record 80,000 fans at Wembley Stadium in May

Nottingham's Froch knocked Groves out in the eighth round with a right hand described as one of the best punches in British boxing history

After the fight he got down on one knee in the ring to propose to his partner Rachael Cordingley, a model, with whom he has two young children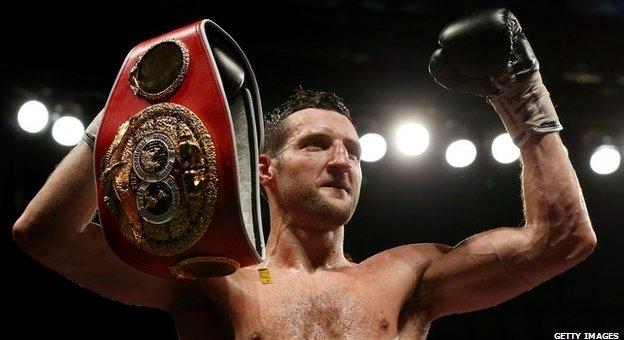 The inside track on Carl Froch
Former boxing world champion and 1985 BBC Sports Personality of the Year winner Barry McGuigan gives his thoughts on 37-year-old Carl Froch.
"He has had a stellar career and is without doubt a consummate professional," said McGuigan.
"The reason he has lasted for so long is that - and he might not appreciate me saying this - he has a relatively crude style, but it's effective.
"He is ridiculously tough and has an incredible ability to digest pain. I'm a great admirer and Carl Frampton - who I train - really looks up to him.
"He probably took Groves lightly the first time round and was caught square on by someone who was a world-class puncher.
"But he got up and stopped him, albeit controversially, and proved in the second fight he was the better man.
"That was a brilliant occasion. There's a lot of hyperbole in the sport, but that's certainly one of the biggest crowds that have ever been at a boxing match.
"He has handled himself well, he's a very nice guy who has worked hard. Bernard Hopkins has proved you can go on much longer these days provided you train diligently. Carl Froch has done that and has the potential to go on longer."
Four facts about Carl Froch

He is a four-time world champion in the super-middleweight division and has also held the British, Commonwealth and English titles. In a career of 35 fights, he has won 33 - 25 by way of a knockout.

He has followed the likes of football manager Brian Clough and skaters Jayne Torvill and Christopher Dean in being honoured with the freedom of Nottingham.
Froch on how he earned the nickname 'The Cobra': "I usually stun my opponents with a venomous attack and then strike."

Froch, who admits he would like to box in Las Vegas before he hangs up his gloves, made the final of the BBC celebrity gymnastics show Tumble in the summer and impressed judges with his vaulting.
Barry McGuigan was talking to BBC Sport's Frank Keogh